Baldwin district not looking to take cost-saving measurers making headlines elsewhere in state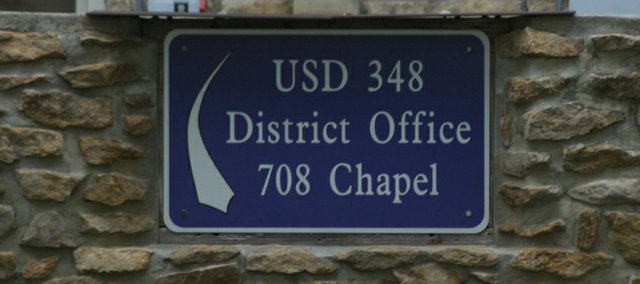 Although it has considered them, the Baldwin USD 348 Board of Education apparently won't take two cost-cutting measurers other state school boards have approved as they deal with the state block grant school funding plan, which will provide no additional state money to help with classroom needs during its two-year duration.
Last month, Gov. Sam Brownback signed block-grant legislation that will replace the state's two-decade old school-finance formula he and Republican legislative leaders argued was too complicated. The intent is that the block grant will serve as a two-year bridge as the Legislature develops a new state school-funding formula.
The block-grant legislation rescinded some funding the Legislature approved a year ago for this school year, a cut of about $100,000 to the Baldwin district's current year budget. The legislation does increase state aid to education but the increase is for the state's contribution to the Kansas Public Retirement System and not academic purposes. It will freeze general fund state aid to the Baldwin district at this fiscal year's level, forcing the district to look for ways to cut costs or raise fees as it faces increased enrollment and inflation.
At its February and March regular board meetings, district staff presented the board with a host of budget-adjusting measurers, including raising fees for such things as activities, textbooks or in-town busing (or ending that service), eliminating activities with little student participation, cutting supply lists and curtailing part-time summer employment.
Superintendent Paul Dorathy said the board looked at those measures again, but the only action taken during a special board meeting April 1, which was mostly spent in closed-door discussions on teacher negotiations and personnel, was to join an insurance pool of other school districts for liability and property insurance. Dorathy said the move would save the district about $30,000 a year.
So far, the board has rejected two cost-saving measurers, which have made headlines in recent weeks when approved by boards in other state districts. However, the Baldwin board's mention of the two measures — closing school early this year and refusing to except out-of-district students — illustrates the common budget crunch districts are feeling statewide.
Dorathy said there was little interest among board members to close school early, and they will deal with the cut to the current year with carry-over funds in its local option budget and other means.
"What I got the other day is that it is something the board is not really in favor of doing," Dorathy said. "We have extra built-in snow days, and we didn't use any this year. We can consider using those, but you still lose days of education."
Another issue that has surfaced with the block grant bill is the decision of some school districts to refuse enrollment of out-of-district students. Those decisions have prompted some legislators in Topeka to propose legislation forbidding boards from taking such action.
Dorathy said the Baldwin district has 98 students from outside the district. There also are students who live in the district attending public schools in other districts. Although the district doesn't track the latter number, USD 348 is on the plus side of the equation, the superintendent said.
The district welcomed out-of-district students under the now defunct school-funding formula, which pegged to enrollment the amount of state general fund dollars it received. Because the block grant legislation froze general fund state aid at this fiscal year's level, the district will be compensated for the current 98 out-of-district students. However, there will be no additional state money the next two budget years for any enrollment growth, no matter its origin, Dorathy said.
The board is taking a wait-and-see approach to the issue with the understanding that a new state funding formula is coming in three years, which could again compensate districts on a per-pupil basis, Dorathy said.
"Ninety-eight is quite a few," he said. "That will be a discussion, but in three years we will be back on a formula of some kind."
Some districts may not have room for students, or — a scenario more likely to come into play in the Baldwin district — find that accepting out-of-district students without added money to hire added teachers forces an increase to classroom sizes beyond acceptable numbers.
"If we have to raise our class sizes significantly, we will have to look at this," Dorathy said. "It becomes a question of do we take on more of them?"