Baldwin High School boys and girls track team win season-opening meets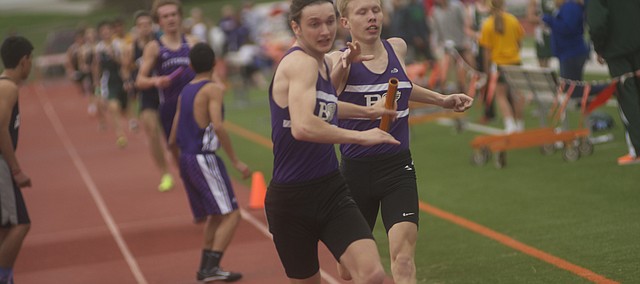 The Baldwin High School track teams opened strong last Thursday with both the girls and boy winning the 12-team Baldwin Invitational Meet.
The two-time defending girls 4A state champion earned 155.33 points to easily outdistance second-place Pittsburg, which finished with 110.50 points. The boys finished with 127 points to second-place Blue Valley Southwest's 116.
The performance of their athletes pleased their coaches.
"We completed very hard," said BHS girls coach Ted Zuzzio. "We had some surprises. (Junior) Hollie Hutton fished third in the triple jump. It was her first time in the event."
Bulldog boys coach Mike Spielman said the meet was a great start to the season and pointed to two record-setting performances.
"George Letner set a school and meet record in the 2,000 steeple chase, and Christian Gaylord set the meet record in the discuss," he said.
As expected, Baldwin senior Alexia Stein won the shot put with a throw of 41-0.25 and the discus (142-03). Fellow Bulldog Jordan Hoffman was third in the shot (34-07.75) and discus (119-06). Freshman Emily Bennett was fourth in the ahot put.
Junior Kelsey Kehl's second-place throw of 123-10 gave the Bulldogs the top-three finishes in the event.
Hoffman upset defending state champion Kehl to win the javelin. Hoffman's winning effort sailed 129-07, while Kehl was second with a throw of 121-09.
Gaylord duplicated Stein's double-golden performance on the boys side with impressive early season throws in the shot put and discus. As mentioned above, he set a meet record in the discus but also had two throws of more than 50 feet in his winning shot put effort.
As expected both Bulldog teams were strong in the relays. The boys won the 4-by-100-meter and 4-by-400 meter and 4-by-800 meter relays and the girls took gold in the 4-by-400-meter and 4-by-800 meter relays.
Next up for the Bulldogs in the Pre-State Classic Friday in Wichita. The top performers will make the trip to gain experience at the site of the state finals in May.
BIT Team results
Girls
Baldwin, 155.33; Pittsburg, 110.50; Basehor-Linwood, 93.83, Anderson County, 87.83, De Soto, 68; Blue Valley SW, 64; Eudora, 38.50; Spring Hill, 29; Jeff West, 29; Wellsville, 25; Perry 19; Bonner Springs, 16
Boys: Baldwin, 127; Blue Valley SW 116; Pittsburg 77; BAsehor 74.5, Bonner Springs, 57; Eudora, 57; Wellsville, 56; Perry, 56; Spring Hill, 55.50, De Soto, 41, Jeff West, 22; Anderson County, 1
Baldwin results
(top-five)
Girls: Shot put — A. Stein, first (41-0.25), J. Hoffman, third (34-03.75), E, Bennett, fourth (34-1.75)
Discus — A. Stein, first (142-03), Kelsey Kehl, second (123-10), J. Hoffman, third (119-06)
Javelin — J. Hoffman, first (129-07), K. Kehl, second (121-09)
Triple jump — Hollie Hutton, third (33-07)
Pole vault — Sydney Bergan, second (9 foot)
100-meter hurdles — Maddie Ogle, second (15.58)
100 meters — Carlyn Cole, second (12.88)
1,600 meters — Emma Grossner, third (5:48.69)
300-meter hurdles — M. Ogle, second (50.84)
400 meters — Abby Ogle, third (1:02.91), Kyna Smith, fourth (1:03.60)
800 meters — Addie Dick, fourth (2:33.66)
4-by-400 meter relay — Baldwin first (4:09.78)
4-by-800 meter relay — Baldwin, first (10:19.06)
4-by-100 meter relay — Baldwin, third (54.18)
400 meters — Abby Ogle, third (1:02.91), Kyna Smith, fourth (1:03.60)
800 meters — Addie Dick, fourth (2:33.66)
Boys:
Pole vault —Joel Katzer, third (12 foot)
Shot put — C. Gaylord, first (51 feet)
Discus — C. Gaylord, first (172-02)
Javelin — Jake Katzer, fourth 147-10)
Steeple chase — George Letner, first (6:30.69), Joe Pierce, third (6:49.15)
800 meters — J. Pierce, second (2:01.95), Dakota Helm, 2:05.36)
110-meter hurdles — Jake Katzer, third (17.88), Joel Katzer, fifth (17.88)
300 meter hurdles — Joel Katzer, third (44.83), Jake Katzer, fourth (46.02)
4-by-800 meter relay — Baldwin first (8:40.05)
4-by-100 meter relay — Baldwin first (44.78)
4-by-400 meter relay — Baldwin first (3:3`.22)