Baldwin girls win soccer program's first-ever win against Piper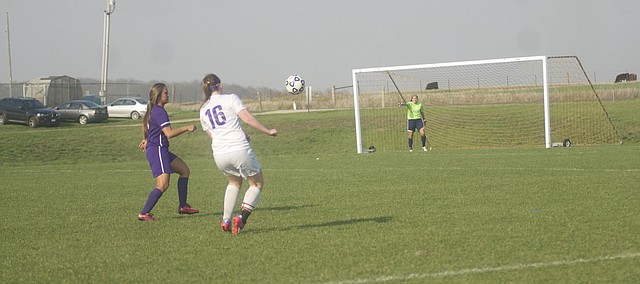 The Baldwin High School girls soccer team capped off a busy and successful week with a 1-0 home victory Tuesday against Piper.
The victory followed a 2-0 loss to De Soto on the road and an easy 8-2 victory last Thursday on the road at Basehor-Linwood. The Piper victory was the first-ever against the Pirates in the four-year history of the Bulldog program.
Baldwin got the match's lone goal in the first half when junior Erica Petry scored. The Bulldogs then survived numerous Pirate shots on goal in the second half to preserve the shutout victory.
Baldwin coach Erryn Kindle said the win was a learning experience for his young team after he pulled players back defensively in the second half.
You kind of do it tactically," he said. "In their mind they are defending the goal, but we gave up more shots on goal. We need to work on attacking and possessing forward and defending farther up the field."
The game was played with temperatures in the mid-80s, which made it a challenge to keep players fresh, especially following Monday's hard-fought match at De Soto.
"Yesterday, we played really hard so I knew it would be difficult," Kindle said. "But they came out and played really well at the start of the game and got our goal. We were able to hold on"
The score in the De Soto match was a bit deceiving as the Bulldogs trailed 1-0 late. The Wildcats scored when Kindle sent more players forward in an attempt to tie the match.
The Bulldogs, now 2-3 on the year, will play Friday at Shawnee Heights.