Christie wins another term, three new members elected to Baldwin City Council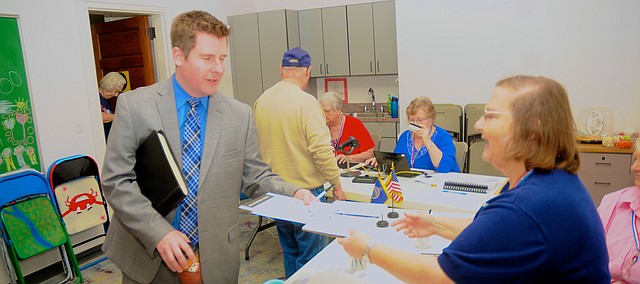 Baldwin City's City Council and school board elections produced mixed results with an incumbent re-elected to the board and three challengers winning seats on the council over a sitting council member.
Final Baldwin City Council, USD 348 election results
Election results are unofficial until they a canvassed.
Baldwin City Council, three of three precincts reporting
Steve Bauer, 200
Tony Brown, 230
April Coburn, 66
Bonnie Plumberg, 86
David Simmons, 175
Casey Simoneau, 140
Shane Starkey, 147
Top three vote-getters are elected to a four-year term on the council.
USD 348 Board of Education with 13 of 13 precincts reporting
At-large
Kelley Bethell-Smith (unopposed), 386
District 1, Position 2
Nick Harris (unopposed) 392
District 2, Position 2
Sandy Chapman (unopposed) 372
District 3, Position 2
Chad Christie, 282
Jay Hundley, 150
Chad Christie was an easy winner in the only contested board race in the Baldwin school board District 3, Position 2 seat. Unofficial results from the Douglas County Clerk's office show him defeating Jay Hundley, a shop teacher at Lawrence High School, 282-150.
Christie viewed his re-election and the absence of contested races on the board as a positive.
"When you see a lot of people not running and uncontested races, I think that means people think we are doing a good job," he said. "I think people know we face difficult times, but they know we don't have a lot of options. When there is no money, there is no money."
Christie's re-election ensures continuity on the school board. Two members running for re-election, Sandy Chapman and Nick Harris, were unopposed Tuesday and will serve another four years. The only new member on the board will be Kelley Bethell-Smith, who also ran unopposed for the district's at-large position. She said she was thankful she would join an experienced board July 1.
"It does give me comfort, not only because of their experience but because they are all very smart people," she said. "I think they are great as individuals and great working together in the decision-making process. There's going to be a lot of tough decisions in the next few years, so it's important you have people who have proven they can come together to make those decisions."
By contrast, the Baldwin City Council will have three new members on the five-person council when the new members take their seats in June with incumbent Shane Starkey finishing fourth in the seven-candidate race and incumbents Jason Mock and Ken Wagner choosing not to seek reelection. Elected to the council were Tony Brown, Steve Bauer and David Simmons.
Brown led the field with 230 votes, Bauer was second with 200 and Simmons third with 175. The vote totals of the other candidates were Starkey, 147, Casey Simoneau, 140, Bonnie Plumberg, 80, and April Coburn, 66.
Although the majority of the council will be new, two of the winning candidates have experience serving on city governing bodies. Brown served on the Baldwin City Council from 2004 to 2008, when he resigned after winning a seat in the Kansas House. Bauer served on the Henryetta, Okla., City Council before moving to Baldwin City.
Although he would be behind sitting council members on city issues, his experience and his attendance of council meetings in recent months would help him get up to speed, Brown said. He expressed gratitude to voters for giving him another opportunity to serve.
"Any time you win an election, it's a humbling experience," he said. "I'm looking forward to getting at it again after some time away. It's going to be an interesting time in Baldwin history, and I'm looking forward to being a part of it."
His past experience on the Henryetta council will help with his grasp of city issues, as would his recent membership on the Baldwin City Planning Commission, Bauer said.
"I've done a lot of community service in other places I've lived, but I haven't done much here, so I'm looking forward to it," he said.