Face to Face: Gail Guenther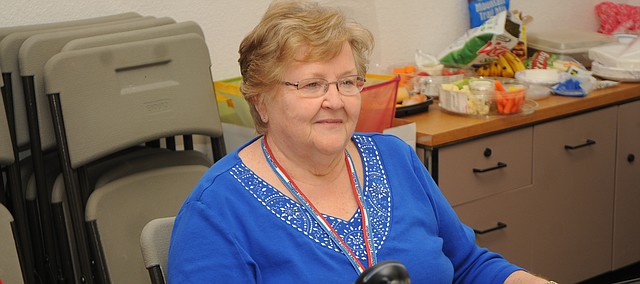 Gail Guenther
Born: Guenther was born in Ottawa but has spent her entire life in Baldwin City.
Family: Husband, Leslie; daughters Linda, Julie and Kristi; and four grandchildren. She and her husband will celebrate their 51st wedding anniversary next week.
Education: Baldwin High School and Wright Secretarial School in Kansas City, Mo.
Hobbies: Guenther said she likes crafting. She also enjoys playing cards and regularly plays Hands and Feet at the Baldwin City Recreation Commission office.
Career: Guenther worked briefly as a secretary before staying at home to raise her daughters. She has done floral arrangements for a number of shops, including at Bell Flowers, several incarnations of the Cranberry Market and at Owens Flower Shop in Lawrence.
Digging deeper: She gives her time to several community organizations, because she thinks it's important to stay involved. Guenther is on the Baldwin City Community Fund board and active with the Baldwin High School Alumni Association.
As a lifelong resident of Baldwin City she has witnessed a lot of growth. Her father's farm near Baker University's Liston Stadium is now the home of a residential neighborhood, as is the area around her and husband's former home. Guenther said she notices the growth when she and her husband dine out.
"I used to know everybody in town," she said. "Now, there's always people I've never seen before. It's hard to keep up, especially when you no longer have children in school."
Although Baldwin City has grown, it hasn't changed in one important way.
 "It's a very friendly town," she said. "That's why we stayed here all these years."