Couple put down barbecue roots in Baldwin City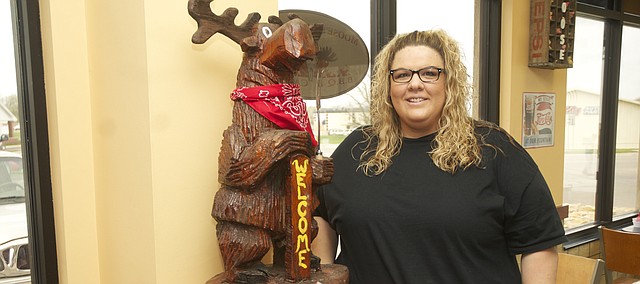 After years of building a customer base from a mobile unit, Moose's Backwoods BBQ has moved inside.
For four years, Angela and Moose Barnhart have been serving barbecue-loving residents with brisket, pulled pork, ribs, burnt ends and other barbecue favorites from a mobile unit located in the Baldwin City Market parking lot. To satisfy their growing customer demand, the couple opened for business Tuesday morning in the west side of Santa Fe Market.
"Our business had picked up to the point we didn't have room," said Angela Barnhart, the vocal part of the husband and wife barbecue team. "We had a lot of customers request we have seating. A lot of Baker students said if we had a restaurant they would bring their moms and dads to eat there. Our phones have been blowing up with customers asking when we will be open."
Like many barbecue restaurants, Moose's Backwoods BBQ's roots are in the Barnhart's experience in competition cook-offs and entertaining friends. Barnhart said the restaurant's name sprang from her husband nickname and from past barbecue spreads shared with friends in their backyard.
There will be some menu changes with the move to the 27-seat indoor location at the northeast corner of Sixth Street and U.S. Highway 56. With the restaurant open from 7 a.m to 7 p.m., the most obvious will be breakfast. They will serve up traditional breakfasts to morning customers in the restaurant and from the drive-thru window, Barnhart said.
Hamburgers have also been added to the menu, but customers who have developed a taste for their pulled pork or brisket sandwiches will find they are still available. Also on the menu is the 2.5 pound stuffed potato, which is loaded with sour cream, butter, chives and pulled pork.
"It's a real heart attack," Barnhart said proudly.
The restaurant's food isn't trendy health food but meant to satisfy hungry, barbecue loving diners, Barnhart said.

"Bring an appetite," she said. "We say we're here for those hungry as a moose."
The familiar cedar-sided mobile unit won't be retired, both because it houses the couple's smoker and because they plan to continue catering and wheeling it to such events as Midland Railway's Thomas the Tank Engine train weekends and the Maple Leaf Festival, Barnhart said.
The barbecue restaurant replaces the BBC Restaurant that Santa Fe Market owner Frank Foye opened when McDonald's closed its Baldwin City location about two years ago. He enjoyed having the BBC, but he said running the restaurant and the convenience store with its U Haul outlet became too much, Foye said.
"I think it will be a very successful fit," he said. "It's what I've been looking for since McDonald's left."
Those wanting to call in a food order from Moose's Backwoods BBQ can call the restaurant at 594-RIBS.