Baldwin City home base for world-wide netter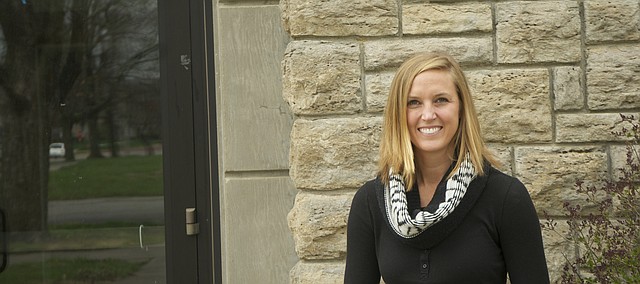 After leaving the Baldwin USD 348 district office Monday with an application to substitute teach, Emily Brown admitted she was happy with not having a full-time job.
Brown said she has thoughts about settling down, but she's having too good a time making a living doing the two things she loves, playing volleyball and traveling. In the last six month, the 6-foot, 2-inch Brown has played professional volleyball in the Philippines and Puerto Rico. She'd play in the Puerto Rican pro league before, but it was her first time in the Philippines.
"It was an unbelievable experience," she said. 'It was so much fun. It was so different. And I got paid."
Brown left Oct.1 for the Philippines, where she played in a six-team Manila-based league, which allowed two foreign players per team. Her team was sponsored by RC Cola and the Philippine air force.
"All the Filipino girls on the team were in the air force," Brown said. "I stayed in an apartment with another American across the street from the base. It worked out well."
Her team finished third and just out of the championship game, Brown said. But she counted the experience a success because of the good times she had exploring the country during the eight-week season and during the two weeks she spent traveling around the Philippines after the playing team commitment ended, despite the Manila traffic making a trip the distance of Baldwin City to Lawrence a two-hour undertaking.
"I've never seen anything like that," she said. "I swam with a whale shark. That was awesome."
She even enjoyed the local cuisine. "The food was great. It was mostly seafood. I don't really like seafood, but it was all fresh and very good."
There were exceptions.
"They have a delicacy over there that's a fertilized duck egg," Brown said. "You crack open an egg and there's a little cooked bird. It was horrible, but it was a joke on the team about how long we could go without trying it."
A vagabond life as an international professional athlete wasn't how Brown envisioned living her 20s when she was a Baldwin High School student intent on playing basketball at Kansas University.
But, like many of us, Brown found life didn't follow her early roadmap. Basketball gave way to volleyball, but she still ended up playing for the Jayhawks after leading the 2003 Baldwin High School team her mother, Jill Brown, coached to a second place state finish. It was at KU that she first became aware of opportunities to play overseas.
"When I was a sophomore, there was a senior who had the opportunity to play in a foreign league," she said. "That had never occurred to me. I thought those playing overseas were Olympic-level players."
Although professional volleyball can't compete in the United States with the NBA, NHL and big-time college winter sports, there are a lot of opportunities to play professionally in Europe, Asia and South America, Brown said.
After graduating from KU, Brown first played two seasons in Slovakia and later played part of a season with an Italian team and spent another two seasons playing in a French league. She's since played in South America, in addition to the Puerto Rico and Filipino teams.
Korean, Japanese and some European leagues attract America's top players, Brown said. They also have seasons of nine to 10 months and high school like schedules of practicing every day and playing on Saturdays. She prefers the leagues with shorter season, such as the Filipino league, where the approach to the league is also more laid back.
"It's different every time you go to a new country," Brown said. "The practices are very different than American-style workouts. When we went to the first workout, I thought that it was the warmup, but they said 'That's it.' The focus is much more on playing the games than on practice and workouts. That's one of the reasons they want Americans there — to teach them fitness and conditioning."
Some of the Americans she knew in the Filipino league left from there to play in Thailand, Brown said. The photos of that country intrigued her, partly because of its similarity to the Philippines, and it's something she may explore next year.
As it was, Brown spent a bit of time at home and then made a return trip to Puerto Rico.
"Playing in Puerto Rico and living the Caribbean lifestyle where your family can come see you is great, but from the photos my friends sent I think I may have missed an opportunity," she said.
Brown graduated from KU with degrees in health science and physical education. She is "closing in on 30" and giving some thought to what she will do once her playing days are over. She could teach or take a college coaching job, but she still has a few more seasons if she stays in good health.
"I've never had a bad injury," she said. "I've played with girls who have had two major knee surgeries and shoulder reconstruction. I think if that ever happened to me, that would be the end of it."
"As my playing level decreases, my love for travel increases. Living in France for two years and Italy was wonderful. Who gets to do that? I just love learning about new countries and cultures."