Baldwin High School track teams open season today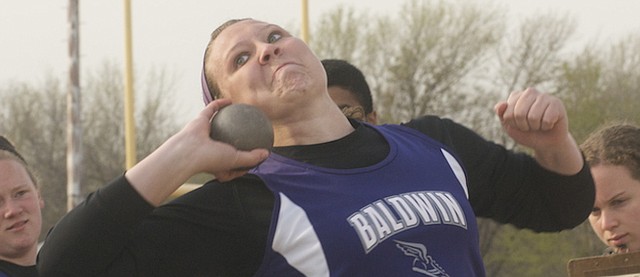 As he timed members of the Baldwin High School boys and girls track teams running successive training sprints Monday, girls coach Ted Zuzzio made a prediction.
Zuzzio didn't predict his girls team would win its third-straight 4A championship or that the boys would be in the hunt for its second-straight state trophy and fourth-straight Frontier League championship. His prediction did, however, shed light on why those things are possible.
"Baldwin kids will compete," he said. "Look at them. Nobody complains about running. They just go right back to the start and get ready to run again. They're not afraid to work hard. That's what makes them fun to coach."
The Bulldogs' track season starts Thursday with the annual Baldwin Invitational Track Meet at Baker's Liston Stadium.
The Bulldog girls return a deep team with plenty of returning state success. That is especially true in the throwing events, with senior Alexia Stein returning to defend her state discus and shot put titles and junior Kelsey Kehl back to defend her state javelin gold medal. Kehl will look to improve on her fourth-place finish in the javelin last spring, and senior Jordan Hoffman will try move up from her sixth-place state finishes in both the discus and javelin. Junior state-qualifier Kylee Bremer provides yet more Bulldog depth in the javelin, Zuzzio said.
The relays should be another strength despite the loss to graduation of "stallion" Morgan Lober, Zuzzio said. Lober won state gold at 400 meters while anchoring the gold-medal winning 4-by-400 and 4-by-800 meter relay teams. However, three members of the 4-by-400 relay team return in juniors Fayth Peterson, Kyna Smith and Carlyn Cole, who will run the anchor leg this year. Smith, Cole and Bremer were also part of a bad-luck 4-by-100 relay team that failed to qualify for state because of a foul at the regional meet but posted a time during the year better than the state gold-medal effort.
Half of the state title 4-by-800 relay team returns in juniors Addie Dick and Fayth Peterson. Freshman Abby Ogle will help with the relays, Zuzzio said. A number of distance runners, including junior Daelynn Anderson and senior Emma Grossner, are available for the 4-by-800 relay.
Looking to return to state in both hurdle events will be senior Maddie Ogle.
The boys return three-quarters of a 4A gold-medal 4-by-800 relay team in senior Joe Pierce, a state qualifier in the 800 meters, and juniors Dakota Helm and George Letner. As should be expected for a school that won its second-straight 4A cross country boys crown last fall, there are other talented distance runners available to replace last-year's senior anchor Ethan Hartzell.
"We're probably deepest in talent in the distance events," boys coach Mike Spielman said.
But he said there was quality in the sprints, too, with the return of junior Darius Johnson and senior Joel Halford.
Junior twins Jake and Joel Katzer should be solid in the hurdles and the javelin, and Joel Katzer will attempt to improve on his eighth-place state finish in the pole vault.
Senior Christian Gaylord, a state qualifier in the discus as a junior, has looked very good this spring in the discus and shot put, Spielman said. Looking to give the Bulldogs more depth in the throwing events is sophomore Justin Christie, he said.
"We want to get better every meet and be in the position to bring home a state trophy," Spielman said.