Baldwin High School principal asked to bring recommendation for
ACT

prep class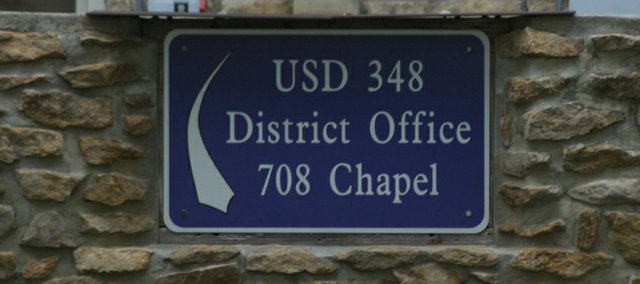 Baldwin High School Principal Rob McKim was instructed Monday to bring back a recommendation to the district school board about how his school should offer an ACT Test preparation class for the 2015-16 academic year.
That request came after McKim reported to the Baldwin school board the results of his research into what other districts in the state were offering.
The district dropped its previous ACT prep class when state aid cut during the worst of the recession wasn't restored. Last month, board members took note of the extremely high ACT scores district students earned when the class was offered and expressed interest in renewing the class.
Parents are also interested. McKim said there was support for the class during a recent high school site council meeting.
In his report, McKim said districts were taking different approaches. Some were offering an ACT preparation class as a normally scheduled class while others offered classes during evening or weekends, he said.
About 80 percent of the school's senior class takes the test, McKim said. If the high school offered a traditional daytime class to four sections, the cost for instruction would be about $18,000 to $19,000 a year, he said.
McKim estimated it would cost from $25 to $30 an hour to hire an instructor for either evening or weekend classes. But he agreed with board members that there was the possibility the cost could be recouped by requiring students pay for the extra-hours classes.
"But I would say if we do that, it has to be very beneficial," McKim said.
Some district allowed students to be selective with night-time classes and take only sections on subjects in which they needed help, he said.
Scheduling would be an issue no mater what option was chosen, McKim said. A normally scheduled daytime class would require students to give up electives. Evening or Saturday classes would inevitably conflict with sports and activities, he said.
Curriculum for the class was available, McKim said, mentioning two products with costs of $500 and $1,000. While not endorsing the claim, one promised to improve test scores by 3 points, McKim said. If true, that could be worth thousands of dollars in scholarships, he said.
McKim is to bring back a recommendation to the board next month with projections of what the class would cost.
McKim made his report immediately after Superintendent Paul Dorathy said district would need to tighten its belt this school year because the district would receive less state aid that projected in the 2014-15 budget the board adopted in August.
Two things contributed to the shortfall, Dorothy said. The first was a consequence of the district doing good things with at-risk students.
For several years, he and district administrators had predicted the number of at-risk students would shrink because of the district's work with them. That occurred this year and as a result the district will receive $57,000 less in state at-risk aid than the 2014-15 budget projected.
The budget also overestimated the district's enrollment, Dorathy said. That is done intentionally so that the district could avoid the cost of republishing the budget should it have more revenue than that document states. But this year's over-estimate of 19 students meant the district would not be receiving $48,000 in state aid projected in the budget.
Although the district does build in some cushion in the budget as protection, the shortfall would have to be addressed, Dorathy said. That would be done through cost cutting and use of the contingency funds, which are already being used to pay the salaries of two teachers, Dorathy said.
The district received a warning last week from a Kansas Department of Education official about the need conserve contingency funds, Dorathy said. The official warned the continued state revenue shortfall would probably force whoever is elected governor next month to adjust the current state budget through spending cuts early next year. Such a move would mean a cut in state aid to schools this school year, Dorathy said.