Beautiful Baldwin City weather contibutes to successful Maple Leaf Festival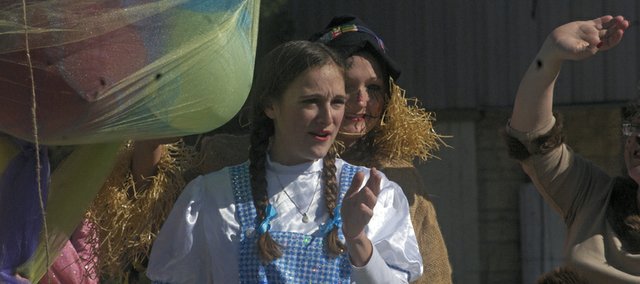 At mid-afternoon Sunday, a shopped-out Mary MacIntosh was sitting on an Eighth Street curb, waiting for a second wind before attacking the Maple Leaf Festival.
The Sedalia, Mo., woman said it was her first visit to Baldwin City and the festival she'd never heard of until last week.
"I'm surprised I've never heard of it because it's so big," she said. "My daughter and I attend the Junior League Holiday Mart in Kansas City every year. One of my daughter's friends has a booth here and insisted we come. I was hesitant because I'd was exhausted from shopping in Kansas City all week, but I'm glad I did. This is a perfect place for this. I'm very impressed."
Before stopping to rest, she had bought decorated kitchen towels, "gathering" pins that hold rolled-up shirt sleeves in place and cookies to give her more energy for continued shopping.
"I'm going to do more, (shopping)," she said. "I love crafts. I'm going to go home and tell my friends about this, so they'll probably come next year. I'll be back."
Twenty-four hours earlier, MacIntosh would have been unable to rest on the curb. For at least two hours following the end of the hourlong Maple Leaf Festival Parade at noon Saturday, curb-to-curb crowds filled streets on High Street from Sixth to Eighth and Eighth Street north to Chapel Street.
It was a festival turnout that impressed seasoned festival hands. One of those, Lauretha Rowe was manning an outdoor table in front of Quilter's Paradise, which her sister Sharon Vesecky owns. The Scranton woman said the crowd was as good as any she'd seen.
"It's been very good," she said. "After the parade, they just swarmed in."
Rowe's view that Saturday was one of the festival's best-ever days was widely shared among festival vendors as crowds swelled with near-perfect festival weather of clear skies and afternoon highs in the 60s.
"This year, Saturday was outstanding," said Sherry Johnson, who worked the Heart of America Teen Challenge booth, selling onion rings, fried okra and curly fries. "We had a good two days, but Saturday is always busier. It was a perfect day. That brought out a lot of people."
Another indication of the size of Saturday's crowd was the shortage some food vendors experienced. Baldwin City Lions Club President Gary Sanden said the club ended Saturday nearly out of funnel cakes and other treats the club sells at its downtown booth.
"We almost ran out of everything," he said. "We're going to have to scrounge up more stuff."
Those working the Annunciation Catholic Parish's booth in front of City Hall were also kept busy throughout the festival.
"We ordered more food for this year and served more," said Father Brandon Farrar. "Today was good. Saturday was very good."
The parish took a number of steps this year to speed up food service, Farrar said. Those included the addition of debit and credit card readers, two new grills and a more efficient layout. That accounted for some of the booth's increased sales, but Farrar said a larger festival crowd was also a factor.
Maple Leaf Festival Committee Chair Joanna Vesecky said she got a sense of how good attendance was during Saturday's peak when she walked from the festival committee's downtown office north on Eighth Street to Ames Street.
"It was just a crush of people," she said. "I was saying, 'Excuse me, excuse me, excuse me,' the whole way."
Feedback to the committee suggested the festival again drew in excess of 30,000 visitors with Saturday being stellar, Vesecky said.
"The parking lots were full, the buses were full and the vendors were happy," she said.
Marsha Cussen of Lincoln, Neb., was one of those happy vendors. She has been selling jewelry at the festival for nine years and now has a prime booth space in the 700 block of High Street.
"We saw a lot of people this year," she said. "It's always very well attended, but with the perfect weather, we had a lot of good friends come by. We'll be back next year.
"What sets it apart is it's so well managed. It's easy to unload and load. They draw because there's a lot of things for people to do, but not too much to take away from the shopping."