Fine weather swells Maple Leaf Festival crowd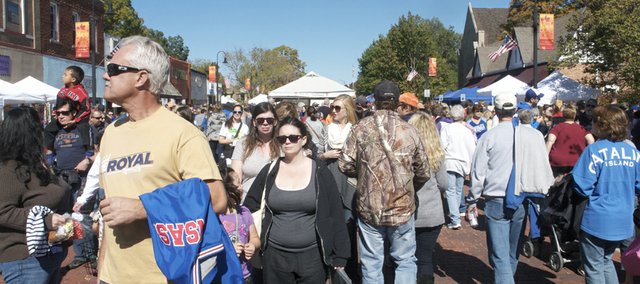 With beautiful fall weather, crowds "swarmed" Saturday to the Maple Leaf Festival in Baldwin City.
Under sunny skies and the temperature near 60 early Saturday afternoon, Lauretha Rowe stood behind a table of goods in front of her sister Sharon Vesecky's Quilter's Paradise in downtown Baldwin City. She'd helped her sister for years, the Scranton resident said, and this year's attendance was as good as any she'd witnessed.
"It's been very good," she said. "After the parade, they just swarmed in."
Neither Maple Leaf organizers nor the city have a way to peg attendance at the annual two-day fall festival, but it is generally estimated to draw 30,000 to 40,000 people when the weather cooperates. Longtime festival hands said the festival got off to a very good start Saturday.
Maple Leaf Festival Committee Chair Joanna Vesecky said she was impressed with the size of the crowd when she walked from the festival's downtown headquarters to the northern-most craft booths near Eighth and Ames streets.
"It was just a crush of people," she said. "I was saying, 'Excuse me, excuse me, excuse me,' the whole way."
The sizeable turnout was noticeable from her vantage point in the parade, said Baldwin City Mayor Marilyn Pearse. Unlike past years, the entire parade route was lined with spectators, she said.
"It was a longer parade, too," she said.
Long lines were the norm early Saturday afternoon at food booths and for such festival offerings as a face-painting table at the downtown Kid's Zone. The longest line was for turkey legs at the Kappa Sigma booth at the festival's epicenter of Eighth and High streets. Fraternity alumnus Stewart Hoffman and father of two current members working beside him, Riley and Parker Hoffman, answered with a quick "no" when asked if the booth could keep up with demand. About 30 minutes after the parade ended, the line at the booth stretched nearly 50 feet despite the use of two smokers.
"We started this when I was in school with hotdogs," he said. "When they started the turkey legs, they really had a hit."
The festival is a draw from many Baker University graduates, such as Taylor Bonar and Danielle Buchard. A 2007 graduate, Buchard said she had returned to Baldwin City from Johnson County for the festival five times since she finished school.
"I just like to see what's going and hang out. And the food," she said.
Benefitting from the large crowd were the vendors in the 320 festival craft booths. Gail Neimann, of Olathe, said she was at the festival for the second-straight year with her daughter Aimee Niemann.
"It seems like this year is bigger," she said. "There were more people early this morning. We've done very well."
Sunday
• Craft and food booths, 9 a.m. to 5 p.m., downtown Baldwin City
• Toby's carnival, 9 a.m. to 5 p.m., 800 block of High Street
• Maple Leaf Quilt Show, 10 a.m. to 5 p.m., Baldwin City Elementary School Intermediate Center
• Midland Railway Great Train Robbery rides, 10 a.m. to 4 p.m., Santa Fe Depot
• Black Jack guided tours: Black Jack Battlefield and Nature Center, 4 miles east of Baldwin City on U.S. Highway 56, 11 a.m., 1 p.m. and 3 p.m. Cabin tours at roadside park on U.S. 56, 9 a.m. through 4 p.m.
• County music entertainment, 11 a.m. to 4 p.m.; noon to 9 p.m., tent in 700 block of High Street