Grand marshal honored to be part of 'quality event'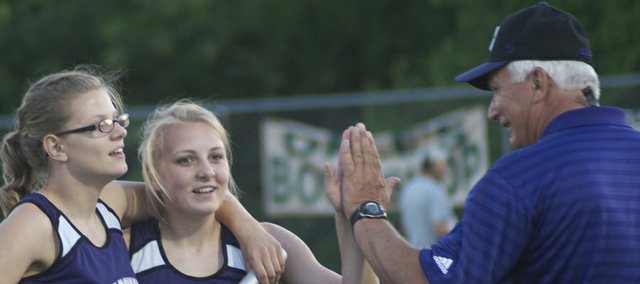 Ted Zuzzio is honored that his name is associated with the this year's Maple Leaf Festival.
The Maple Leaf Festival Committee named the longtime teacher and coach in the Baldwin school district as year's Maple Leaf Festival Parade grand marshal. It's a special honor, Zuzzio said, because of the festival's place in the community and its well-earned reputation.
"Maple Leaf is a grand event, and it's a quality event," he said. "That goes for everything about it — the committee, the food and crafts people who sell really nice things. It's a nice draw to the town, but it's a nice event for people here, too."
The Maple Leaf Festival Committee feel they found a quality person to honor in Zuzzio, too, said committee member Donna Curran.
Zuzzio arrived in community with his wife, Karen, in 1976 to start his 38-year career as teacher in the Baldwin school district. He taught industrial arts at the high school for 21 years before spending his last 17 years as a physical education teacher at Baldwin Junior High School.
Through it all, Zuzzio was successful coach. He was a top assistant to his friend Merle Venable when the Bulldogs won seven–straight league championships and the 1981 state championship. He coached the BHS girls basketball team to nine state championship appearances, winning two championships and finishing runner up on two other occasions. His teams on the junior high and high school level amassed a 521-147 record.
Zuzzio's BHS girls track and field teams have won 23 regional titles and 16 league championships. His Bulldogs have won three-straight 4A state titles and four the past five, and Zuzzio will return as coach this spring as the girls vie for another state championship.
"We'll be in the conversation," Zuzzio said. "Since I retired in June, I've been playing a little golf, gardening and being a good grandpa. This fall, I've been officiating a little volleyball. I'll do a little basketball officiating this winter."
As a family man whose two children, 31-year-old Tony and 35-year-old Stacy, were born and raised in Baldwin City, Zuzzio was also active in the community and got hands-on experience with the Maple Leaf Festival. First as a Jaycee and then as a member of the Civics Club it morphed into, Zuzzio helped at a downtown festival food booth at the prime Eighth and High streets location the Annunciation Catholic Parish booth now occupies.
"When we first started, we were one of four places in the festival allowed to have food," he said. "We went the extra mile and put out chairs and tables. We used to sell actual steak dinners. We had brats, hotdogs and hamburgers, too, but back in the day we had an actual steak dinner with baked potato, green beans, peaches and roll. We'd have big crowds."
The Jaycees used big ovens in the basement of City Hall to bake the potatoes, Zuzzio said. They also peddled burgers, hotdogs and brats from a wagon, which was later given to the Baldwin City Recreation Commission, he said.
When not working the food booth, Zuzzio had time to scout the festival for projects to take back to this industrial arts classroom.
"I got a lot of ideas from the festival, walking around to see what people made," he said. "Most of the people were really nice and would let me take measurements. I'd take them back to the school and different kids would make them."
Although he hasn't been very active at recent festivals, the weekend is still special to his family, Zuzzio said. In-laws have visited that weekend for years, and this weekend his children and his two grandchildren will be returning home to see him honored.
"It is home, now," he said. "We love the town, the community and the people. I've been blessed to have good kids to teach and coach and parents who are supportive, also. We've been blessed."