Kappa Sigma festival food stand to return with popular turkey legs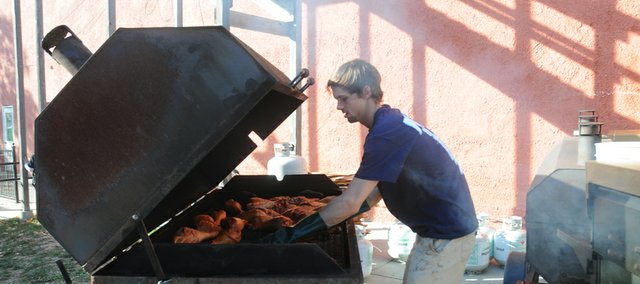 Sean Driskill says he was not prepared two years ago for how popular the Kappa Sigma turkey leg stand is at the Maple Leaf Festival, despite advanced warnings from his older fraternity brothers.
A native of Lee's Summit, Mo., Driskill never attended the Maple Leaf Festival and had no idea how the Baldwin City he knew in his first two months as a Baker University student would transform the third full weekend in October.
"My freshman year, it was kind of overwhelming," he said. "The older guys in the house told us what it would be like, but it's one of those things you have to experience. I had no idea our turkey leg stand would be that big a deal."
As the fraternity's vice president, the junior is now one of the veterans warning young members of what to expect. They're listening, Driskill said, but since none were from Baldwin City, they won't really comprehend what working a festival drawing from 30,000 to 40,000 people would be like.
For years, Kappa Sigma has sold grilled turkey legs and cold drinks at the festival's epicenter of the High and Eighth street intersection. It will be one of about 20 food stands at this year's festival, said Donna Curran, Maple Leaf Festival Committee booth chair.
That number will include an other popular stands with longstanding festival traditions, such as the Baldwin City Lions Club's funnel cakes and the burgers and sandwiches Annunciation Parish offer at or near that same intersection, but the Kappa Sigma turkey legs have become the festival's signature food and their popularity often leads to lines of patient customers stretching across the intersection waiting to order.
One hint to the Kappa Sigma freshmen of what awaits is the house's festival weekend schedule of 6 a.m. to late at night.
"It's going be a weekend of little sleep," Driskill said. "I know a lot of guys are going to work late shutting down or get there early in the morning so we can have some legs pre-cooked so the lines don't get so long."
One tricky preparation task already has been checked off the to-do list. Driskill said this year the fraternity has ordered 70 cases of turkey legs. With each case containing 24 legs, that's enough to feed 1,680 customers.
"I hope that's enough," he said. "Last year we ordered 65 and sold out. The problem was we have lots of people order them late in the day Sunday to take home and didn't have any for them."
Driskill has also experienced the consequences of the house ordering too many legs.
"My freshman year we had some left over," he said. "For the next week, our cook made just about every turkey meal you can think of. Anything that involved turkey, our cook found a way to use it."
The house's numbers have been down in recent years, so money made from the stand was used to pay ongoing expenses, Driskill said. This year with numbers up, Kappa Sigma hopes to earn enough money to supplement the alumni contributions for house renovations that started in late September, he said.
Despite the long hours and hard work, he and other members look forward to festival weekend, which brings back a lot of the fraternity's alumni to grab a turkey leg or help with the stand, Driskill said. There is also the excitement the different vibe the crowds and activities bring to the community, he said.
"It's a different scene," he said. "It's the one time of year the town is completely packed."