Wellsville woman's handcrafted Santas a regular at Maple Leaf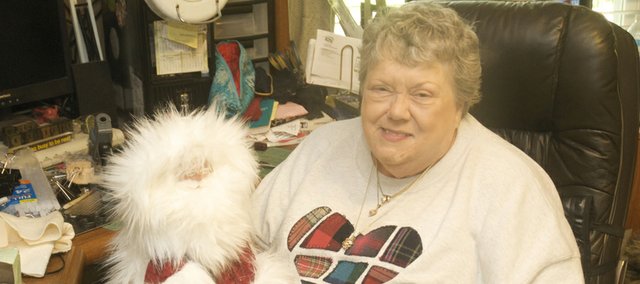 When she first started making her Santa Claus figures, Olive Buehler was looking to make a bit of money at craft shows before the holidays.
"I thought I'd make enough to buy Christmas presents for the grandkids," the Wellsville woman said of the origins of the figures she sells at the Maple Leaf Festival and three other shows each fall. "It kind of got out of hand."
Buehler estimates she now makes 200 of her Santa figures a year. With figures of different design and sizes, it isn't a cookie-cutter assembly either.
"My most popular is 27 inches (tall)," she said. "Next is 33 inches, and I have one 44 inches."
They are all handmade in her Wellsville home. She doesn't buy doll faces for the figures but hand-crafts her own. She then makes the costumes for the figures out of different materials.
It has become nearly a yearlong task that starts in February and ends with the holiday season.
"I take January off," she said. "I start making the faces in February. Then I start in with the material for the bodies. I pretty much have to keep going on it if I want to get done."
Buehler prefers to make what she calls "Old-World" Santa Clauses rather than the familiar American Santa decked out in a red outfit with white fur trim.
"They are not always Christmas-y either," she said. "I've had people tell me they keep them up all year."
Her preference allows for more creativity and a wider use of materials for her Santas' outfits.
"I have one kind of special one made from a black velvet outfit from the 1920s or 30s," she said. "It's going to cost a little more than the others. The lady who gave me the material said I would have to put a little bigger price on it."
The retired Wellsville school district library aide said the Internet is a big help in finding materials, such as the Australian wool fleece she orders or the fur used for trim.
"I do a lot of surfing," she said. "I don't like to get out and shop much. Trying to find the accessories can drive you crazy. The greenery or whatever can be hard to find."
Buehler said she has been selling at the Maple Leaf Festival for at least 20 years with her daughter Deana Miller, of Wellsville. Miller started out making Santas, too, but has since branched out to such things as bears and dragons, she said.
For years, they have had a booth in the old gym at Chapel and Eighth streets. With that building no longer available after the Baldwin school district sold it in April to a private developer, they have been assigned to the Lumberyard Arts Center, 718 High St.
Buehler said she had been told to expect more traffic at the new site and hoped their longtime customers find her and her daughter.
"I have lots of people who come back every year, so I have to come up with something different. I have one lady who has 13 of them. I don't know where she puts them all. There's one motorcycle guy who buys something every year. You don't expect to see someone like that collect Santas."