Carnival, kids' corner, entertainment tent offer festival diversions from shopping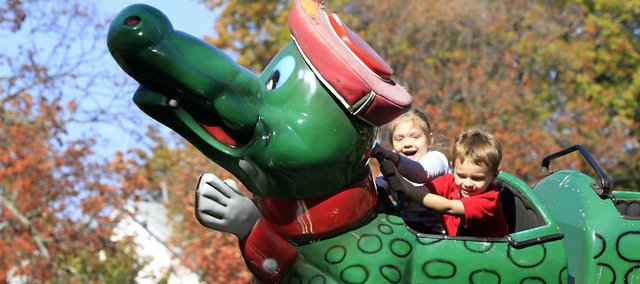 Arts and crafts booths are the lifeblood of the annual Maple Leaf Festival in Baldwin City, but even single-minded shoppers will find entertainment venues vying for their attention.
The most vibrant is Toby's Carnival, which will again be set up on the 800 block of High Street and the large parking lot in that block. Toby's will have games and carnival food, but the big attraction is its Ferris wheel, giant slide, carousel and other rides.
A block to the east at the corner of Seventh and High streets will be ground zero for children's entertainment, said Suzie Davis, Maple Leaf Festival Committee Children's Entertainment chair with her husband, Levi.
Back again this year will be the popular petting zoo with its mix of domestic animals like donkeys, ponies, goats and sheep, and exotic beasts such as llamas, African antelopes and kangaroo. The pony rides will return.
The area will also have a bounce house, children's crafting area and face painter, Davis said.
Children can also be educated as well as entertained through performances of Mad Scientists of Kansas City, who first made an appearance at the festival last year.
"They were very well received," Davis said. "We're so fortunate to have them return."
Shows will be at 12:30, 2 and 4 p.m. Saturday and 11 a.m., 1 p.m. and 2:30 p.m. Sunday.
Country music fans once again can enjoy the tunes inside the entertainment tent pitched on the empty lot on the north side of 700 High St. Maxine Scott, who has helped scheduled Maple Leaf Festival bands for the tent for 28 years, said a full slate of local country bands have committed to play during the weekend.
"They are all country bands, no bluegrass," she said.
Scott started scheduling festival entertainment with her late husband, who was a member of a country band. Those connections and the eagerness of local entertainers to play at the festival have made her job easier, she said.
This year's band schedule is:
Saturday
• Jam session, noon
• Arnie Johnson and the Midnight Special, 1 p.m.
• Rural Harmony, 2 p.m.
• Dr. Cook's Bank, 3 p.m.
• Bud's Barn Buddies, 4 p.m.
• Kansas Country Rhythm, 5 p.m.
• Open jam session, 6 to 9 p.m.
Sunday
• Prairie Praise Band, 11 a.m.
• Border Line Country, noon
• Rural Harmony, 1 p.m.
• Arnie Johnnson and the Midnight Special, 2 p.m.
• Stranger Cree, 3 p.m.