Baldwin volleyball team defends Wellsville tourney title, schools arch-rival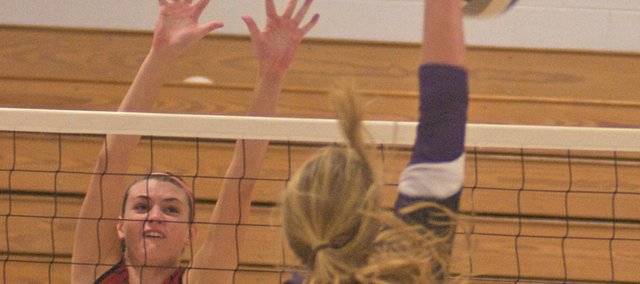 As part of a very successful week, the Baldwin High volleyball team successfully defended on Saturday its Wellsville Invitational Tournament title.
Making the week more satisfying was three victories against arch-rival Eudora High, who the Bulldogs met its opening round of the tournament, the championship and Tuesday in Frontier League play.
Baldwin was dominant at Wellsville, losing only one set on the way to the championship. The Bulldogs did that despite two injuries during the day.
"We had players playing some positions that they weren't used to playing, in a line up we had never practiced," coach Jill Brown said. "We had another injury later in the tournament and had to work around that as well. We had a goal of winning that tournament. It would have been easy to use those injuries as an excuse, but instead everyone stepped up and not only did their job, but had to do more than we usually ask of them."
Brown said the team served aggressively and had 23 aces on the day, with senior Jordan Hoffman accounting for 15 of those.
The team attacked well, racking up a total of 124 kills and a hitting efficiency of .260. Middle hitters Hoffman and senior Alexia Stein had 40 and 39 kills respectfully, while Emma Burnett led the team with a .370 hitting efficiency and 19 kills. Emily Bennett and Kyna Smith added eight kills each.  
"Corey Valentine did a great job of keeping her hitters straight with the line up changes," Brown said. "Our primary passers Jordan, Emma and Kyna, and defensive specialist, Sydney Bergan, did a great job of keeping the ball in play. It was one of those tournaments where we needed everybody."
Hoffman and Valentine were named to the six-person all-tournament team.
The Bulldogs remained hot in Frontier League action Tuesday on the road against arch-rival Eudora, claiming a three-set match win, 25-15, 25-22, 25-22. The first set came easiest despite Eudora jumping to a 5-0 lead.
Brown said it was apparent the two teams knew each other well.
"In the third set, we struggled with our attacking which is usually a strength for us," she said. "That may have had something to do with it being the fifth time this season we've played Eudora. They were pretty familiar with what we were trying to do with our hitters."
The 18-7 Bulldogs will play Saturday at the De Soto Spikefest.