Baldwin school board starts discussion of how to respond to possible state cuts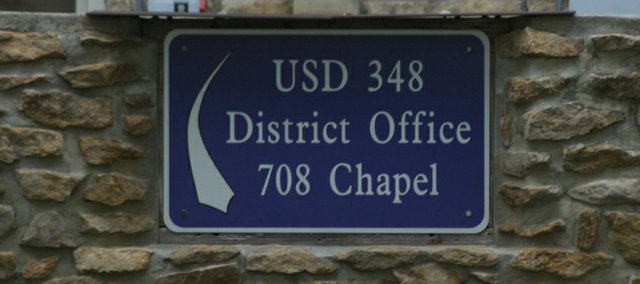 The Baldwin school board took time Monday to start discussion on how the district would respond to a cut in the amount in budgeted state aid for the current school year.
Superintendent Paul Dorathy said there remained a lot of uncertainty concerning possible responses to the state's woeful financial picture, and it wasn't yet known if the state would be forced to reduce funding for K-12 education. He predicted local school districts would learn more before the first of the year as Gov. Sam Brownback makes recommendations about how the state should address the current fiscal year's revenue shortfall.
What is known is the state's latest revenue numbers are grim. It was learned last week that state revenue collections would fall $278 million short of what was needed to fund the state's $5.9 billion budget.
That could necessitate cuts to the budget the Kansas Legislature approved last spring for the state's 2015 fiscal year, which started July 1, and possibly to K-12 education that accounts for 51 percent of the state's annual general fund budget.
"We don't know what it could be," the superintendent said of any cut in current year state aid to the district. "It could be $10,000 or $100,000. They've talked about, depending on how big the hole is, they may cover it with their savings."
Dorathy said a concern in making mid-year budget corrections was that they could become permanent because there will be no quick turnaround to the state's budget shortfall. Moreover, the district cannot make mid-year changes to contractual obligations, which could put it on the path to more long-term savings, he said.
Rather, he suggested the district might look to its savings to carry it through a current fiscal year cutback in state aid, while it started looking to address long-term cuts with the 2015-2016 budget.
One of the sources of available funds will be the building budgets for the four schools. Those totaled about $70,000, district financial director Cynde Frick said.
The district had dipped in those funds in the past when faced with mid-year state aid reductions, Dorathy said.
"It wouldn't be the first time principals have gone through that," he said. "They don't like it, but will tell you they would rather give that up than positions."
Furloughs was another way to cut the budget, but Dorothy said that came with a price.
"Sometimes your best employees start looking elsewhere," he said. "They can't afford a week off with no pay."