Baldwin High School principal proposes voluntary
ACT

prep course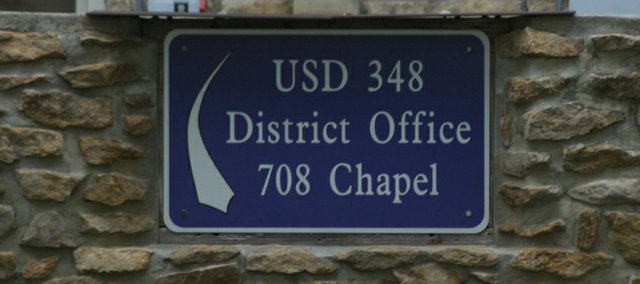 In a presentation to the school board Monday, Baldwin High School Principal Rob McKim said the best way to improve ACT scores in the district was to enroll more students in the high school's more challenging courses.
The Baldwin School board asked McKim to present his recommendations after he presented it a review last month of what other districts were offering,
The district isn't facing a crisis in ACT scores. Seniors in the BHS Class of 2014 posted an average composite score of 22.9, which bested the state average and was nearly two points higher than national composite of 21.
That was, however, a step back from those scores of the previous two years, which included the Class of 2013's eye-popping 23.8 composite average.
The slippage started board discussion of what the district could do to improve the scores, including re-introducing a regular classroom for-credit ACT preparation class, which McKim estimated last month could cost the district from $18,000 to $19,000 a year.
In his Monday presentation, McKim eschewed re-introducing a for-credit, graded class for voluntary zero-hour prep classes the eight weeks before ACT tests are taken. The class could be offered up to six time a year.
Although there were be material costs with such an option, it would not require hiring extra staff because teachers were already in the building, McKim said. Students would be responsible for what they got out of the class as attendance wouldn't be required and there would be no formal testing. He had seen data suggesting students receiving such instruction could increase test scores by three points, he said.
The class could be offered this spring before this year's juniors take the June test, McKim said. There was an earlier test in April, but McKim said he didn't know if everything could be in place before that cycle.
Those students who score best on the ACT were those who took advanced-placement or honors classes, McKim said. He noted students would be unable to take some of those courses, such as calculus, unless they enrolled in required lower-level math classes as freshmen.
"Our first goal should be to get more kids enrolled in those classes," he said.
The district should look to identify elementary and junior students who were candidates for AP and honors classes and communicate to them and their parents what classes they would need to take early in their high school years to later enroll in more rigorous courses, McKim said.
There would be costs associated with the proposal of added counseling, instructional training to teach AP classes and additional classes should demand for them increase, McKim said.
Finally, McKim recommended testing be part of the effort to put younger students on the path to more rigorous high school classes. The ACT Aspire test was available for third- through 10th-graders and would cost about $3,000 per class, he said.
Board member Chad Christie said he like the zero-hour testing option and thought it would be well received if the district got news of its availability out to parents and students.