Face to Face: Baldwin City Clerk Collin Bielser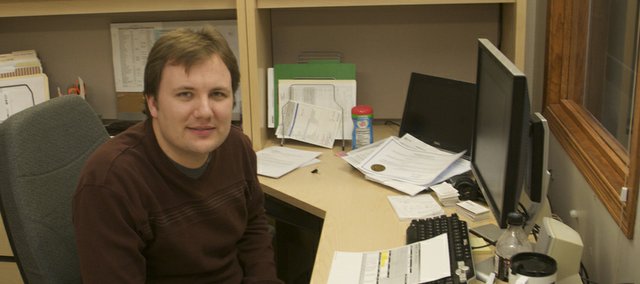 Collin Bielser
Born: Born in Hays but grew up in Colby
Family: Wife, Hali
Education: Bielser graduated from Colby High School. He earned his undergraduate degree from Kansas University and master's degrees in public administration and urban planning from KU.
Hobbies: "Music. I play the guitar. Reading. When I have time, I like to play golf, but there's not a lot of that right now."
Career: Bielser interned a year with Douglas County and had a stint with the Mid-America Regional Council. He started his professional career two years ago in Eudora, where his job included planning and economic development, as well as some duties with the Eudora Chamber of Commerce. He took his job with Baldwin City in February 2013, working as city clerk with additional duties in community development.
Digging deeper: Bielser is still listed as city clerk, but he won't be for long. With the reorganization of City Hall staff the Baldwin City Council recently approved, Bielser will be shedding his city clerk duties when someone is hired to fill that position. Biesler will be asked to take a larger role in community development. He will work with the Chamber of Commerce, Economic Development Council, Tourism Bureau and other groups with an interest in helping the city move forward and realize goals the City Council established, such as making downtown a cultural draw to the community. Bielser said he also will work with developers proposing projects in the city so that they understand the city's zoning and development regulations; he will also ensure the city has a full understanding of the developers' concerns.
Bielser said he and his wife moved to Baldwin City after he was hired in 2013. "We love it here. We're both from small towns, so we enjoy the small-town atmosphere."