Baldwin fifth-grade teacher shares active imagination through book series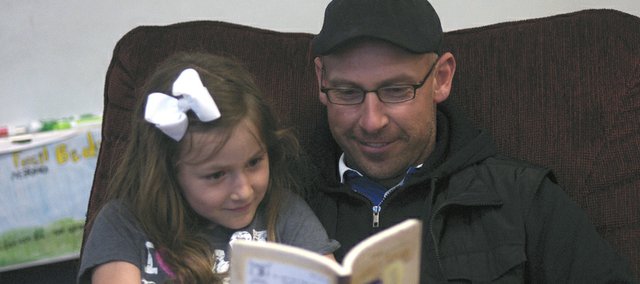 The wall above the door to Matt McKune's Baldwin Elementary School Intermediate Center fifth-grade classroom is decorated with pennants of teams that exist only in his active imagination.
"When I was 8 years old, I created a flip basketball game," he said. "We played it all the way through college. Those are the teams in the league.
"When I was growing up, we lived near Douglas County State Lake. Sometimes, I would sneak out at night to the woods. I would sit there thinking, 'What kinds of stories could happen here?'"
On another classroom wall is a poster that illustrates the results of that kind of thinking and a slow elevator ride. The poster is of a book series McKune has authored.
"We vacation in Minnesota every year at this place where the elevator is as slow as molasses," he said. "When we were riding on the elevator, I told my son Grady the door would open up to different places — the moon or Pluto. That sparked an idea that the control panel drops you off in different realms."
From that idea grew "The Professor's Nephew" series. Earlier this month, McKune released "The Golden Ashes," the third book of what McKune said would be an eight-book series he had printed at the self-publishing firm lulu.com.
The series tells the story of a street-wise boy named Rylen Alumak, whose free-spirited ways get him expelled from a number of private schools. When others give up on the boy, an uncle talks Rylen into being the archivist of his strange museum.
McKune explains the museum is made from rock from a meteorite, which gives it certain magical properties. That and cracking the code to the elevator's control panel allows Rylen and young female companion and elevator operator Havenrose Coutier to travel to different realms and secure the objects found in the titles of the three books of the series, "The Rock of Isis," "The Crystal Claw" and "The Golden Ashes."
In the quests, Rylen learns lessons as he and Havenrose overcome obstacles, hardships and an evil race of beings trapped within the museum's stones.
"He learns how to be humble and trust in others," McKune said. "He learns to make new friends when he didn't think he could."
His path to publication started when McKune attended a writers' workshop at the University of Missouri at Kansas City led by a woman who would become his agent.
"I brought a manuscript I'd reworked after first writing the story in elementary school," he said. "She didn't like that and asked if I had anything else. I told her about this idea. She said, 'Write that one.'"
The books are for children from third to sixth grades and meant to get young boys to read, McKune said. They sell well when he has time to promote them, but time can be difficult to find between teaching and his commitment as technical director of the Vinland Valley Soccer Association.
The titles and series format may remind some of the Harry Potter series — books McKune says he has never read — but their author characterizes them as a "mix of Narnia and Indiana Jones." Rather than magic, Rylen and Havenrose often have to use math and science to solve problems, McKune said.
"The only thing magical is the elevator," he said. "Other than that, it's adventurous and using their wits."
The books have been popular with his former fifth-grade students, who heard the stories from him before they were published, McKune said. They are supplemented with playing cards and an activities book on the series.
All that can't contain McKune's imagination. He's also published a book of scary stories, which his 9-year-old daughter, Marley, says are her favorites.
Churning out the series has required him to find discipline while his imagination continues to buzz.
"I have a lot of other books I thought about writing, too," he said. "I have a bad habit of not finishing something, but getting excited about the next thing and moving on."