Retiring Baldwin elementary teacher found professional home in second grade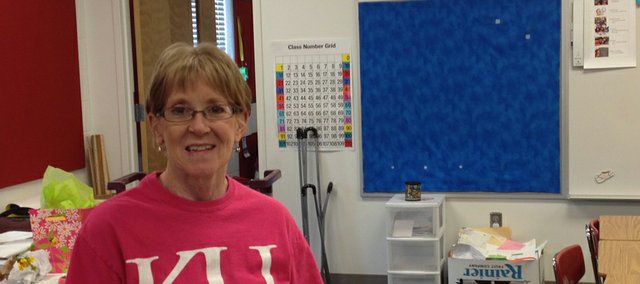 Thursday afternoon, Susan Case was busy packing up personal belongings from her Baldwin Elementary School Primary Center second-grade classroom.
With students discharged for the summer that morning, it was a common sight throughout the school, but Case had a little bit more to pack. She is retiring after 39 years of teaching, all in the Baldwin school district.
"Did you see that pile in the hallway?" Case asked. "That was mine. I'm trying to give some of it away."
It could have been worse. Case taught the first 36 years at the now-closed Vinland Elementary School, so she had the chance to shed some of the items she accumulated in her nearly four-decade career before moving three years ago to the Primary Center.
She recalled walking into her combined third- and fourth-grade classroom at the start of school in late summer of 1974, hired fresh out of Emporia State University by Principal Tom Church.
"I was hired about two weeks before school started," Case said. "I remember the kids were excited about being there and eager to learn."
She was shuffled around to different two-class combinations and grade levels until finally landing as a second-grade teacher, the grade level she taught the majority of her career.
Case fondly remembers her time at Vinland and the intimacy the smaller school fostered.
"In a small school, everybody knows everybody," she said. "You knew the families and all the brothers and sisters. Here, I have a difficult time getting to know all the second-graders."
As fellow second-grade teacher and former faculty member at the closed Marion Springs Elementary School, Ashley Strand praised Case through the open door of their adjoining classrooms. The two agreed that one of the advantages of the merger of all district elementary schools was the opportunity to share ideas and get advice from others staff members teaching the same grade level.
"At Vinland I could get help from teachers in a higher grade or lower grade," Case said. "Here, we have four second-grade teachers in this pod. So that's an advantage."
Primary Center Principal Deb Ehling-Gwin said the school would be losing a valuable mentor with Case's retirement.
"She was a great mentor by example — never pushy but always willing to help," she said. "She's a true professional. She knows what she's doing and loves what she does."
The biggest change she's witnessed in education is the focus on assessments, Case said. In her view, that focus comes with a price.
"I think we've lost some of the flexibility and creativity in teaching," she said. "Now, it's all about getting those assessment scores. You can't do an outing or that math game because you have to do everything by the regimen. I don't think the kids seem as energized."
Case, who grew up in Baldwin City and lived here until she and her husband moved to Lawrence in 2007, said she had five grandchildren that will help keep her busy in retirement. But she said she probably won't be done teaching when she leaves her empty classroom Friday.
"I'm not one to just sit around," she said. "I'll probably do a little substitute teaching."