Vintage Park resident receives Distinguished Citizenship Award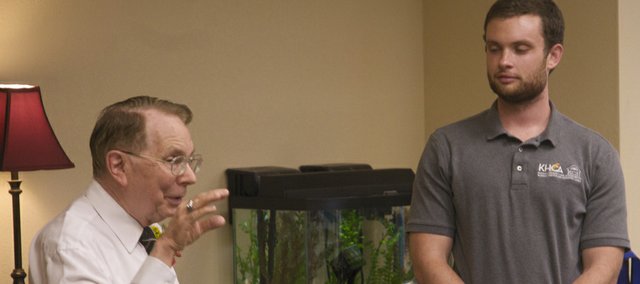 Tom Garber said Wednesday he wanted to be a teacher since an early age and stayed true to that career path even when offered enticing opportunities.
Garber was honored Wednesday at Vintage Park of Baldwin City with a Distinguished Citizenship Award from the Kansas Health Care Association/Kansas Center for Assisted Living.
Vintage Park director Sue Brown said the staff nominated Garber for the award because of the caring attitude he has shared with staff and residents of the facility since he and his wife, Janelle, moved 15 months ago to Vintage Park.
"Here's what the staff had to say in the nomination: 'There isn't a person here who hasn't been touched by Tom's kindness,'" she said.
After accepting the award, Garber provided a brief oral autobiography to those assembled, including his son, Kevin Garber of Baldwin City, and daughter Karen Garber-Miller of Carthage, Mo. His was a life shaped by his 53-year teaching career in Colorado and Missouri, he said.
"I knew from 12 years of age I wanted to be a teacher," he said of his childhood near Baxter Springs. "I loved sports, but I was a little guy of 112 pounds. That wasn't good with those football players."
After graduating from high school, Garber headed to Bethany Nazarene College in Bethany, Okla. All his friends at the school were in pre-med and all went on to become doctors, he said. Although that could have been his career path, too, he finished his bachelor's degree still firm in his decision to teach.
He had another ambition, which was to get his master's degree before he started teaching. He did that at Pittsburg State, near his hometown.
Master's degree in hand, Garber was ready at last to start his teaching career, but Uncle Sam had other plans. A week after the Korean War ended in July 1953, he was drafted into the Army. With his education, the Army offered to make him an officer.
"I turned it down because I would have had to stay in the service longer. I wanted to get out and start teaching," Garber said.
After basic training, Garber was sent to Fort Benjamin Harrison in Lawrence, Indiana.
"They told me it was the Army's white-collar college," he said. "I went through postal college."
When he graduated, he was stationed in Camp McCauley, Austria, which was one of Adolph Hitler's former personal camps, Garber said. He worked in the camp's post office with two former German soldiers.
"One had been an SS trooper," he said. "He was a great guy. He still thought Hitler was great. I didn't, so we had lots of conversations."
Discharged in 1955, Garber moved to Pueblo, Colo., to start his teaching career, first as a high school teacher and later as a health teacher on the elementary level.
He was also a singer and frequently visited nursing homes to entertain, Garber said.
The family moved in 1978 to Carthage, Mo. His plan was to get another job as a classroom teacher.
"But I found out they had a great need for substitute teachers," he said. "I still have the record of substitute teaching longer and more days than anyone before or since."
He eventually fell into a full-time job at a health technical school where he had substituted, Garber said.
"I loved teaching health classes and classes on the human body," he said. "I was sometimes a Guinea pig for my students. My students would ask me if they could use me as a Guinea pig to try out their lessons."
His love for that kind of direct experience with students led him to again pass on what many would have viewed as a promotion.
"I had the chance to be a principal, but I wanted to stay in the classroom," he said.