Baldwin's Lober adopts more aggressive training, attitude for senior track campaign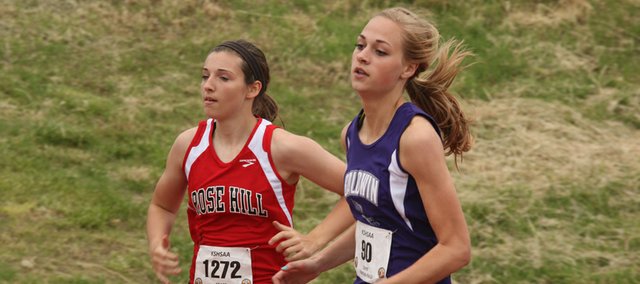 Her day-to-day routine differs quite drastically this year than in years past.
Three times a week, defending state track champion Morgan Lober is up at 6 a.m. to work on everything but running.
The Baldwin High School senior joined forces with Baldwin Athletic Club owner and family friend George McCrary in March for the early morning workouts.
"She came to me and said, 'I want to get better,'" McCrary said. "At the Wichita relays earlier this year, she got silver, and she doesn't like silver, so she came back with a piece of coal burning in her belly and has been training really hard ever since."
The duo get together Tuesday, Thursday and Saturday mornings to work on "hopping, skipping, jumping, stretching and everything in between" McCrary said.
"She already is a great athlete and she has been gifted and talented in running," he said. "I mean I've watched her fix her hair at the end of the race when other people are throwing up.
"It's just a pretty classic, all-American crazy story about a kid that grows up running."
While Lober has always loved to run, she said she enjoyed winning more, and this year was no different.
"I'm at my prime," Lober said. "Last year, it was my talent straight up, but this year it is my mentality and my talent combined."
Lober overcame a sophomore season ladened with injury to return as a junior and help guide the Bulldogs' 4x400 relay team to its fourth state track title in as many years with the help of Elena Watson, Kaitlyn Barnes and Glenn Kelley McCabe. The four girls set the 4A record at state with a time of 3:58.70.
Lober also ran the open 400 at last season's state meet in Wichita, with 58.04 seconds to take the state title.
BHS head track coach Ted Zuzzio said Lober is not afraid to work hard and "puts in the time and gives out the effort in every workout she does."
"She was blessed with tremendous, god-given talent and if you got a hard worker, as well, you'll have success," Zuzzio said. "She's pretty special."
This season, Lober anchors the 4x400 and 4x800 relays, runs the second leg on the 4x100 relay and competes in the open 400. Sophomores Kyna Smith, Fayth Peterson and Carlyn Cole have joined Lober on the 4x400 relay.
As a senior and a defending state champion, Lober said the expectations for her to succeed are high, with no one putting more pressure on the athlete than herself.
"Freshman year, I was like, 'Just do it because my sister is doing it,' junior year it was like, 'Oh, I can actually win this,' and now I am just so determined to win. It's crazy because I expect nothing less from myself," Lober said.
Lober, who recently signed a letter of intent to run at Baker University next year, said despite her talent and training, she still gets nervous before a race.
"I get nervous shaking in my blocks every time and that never goes away," she said.
But her mental game has progressed in a way that she feels more prepared for the post-season than she did in the past, she said.
"Last year I just went (to state) and didn't know what to expect, but not this year," Lober said. "Everything for me is mental this year because physically it's all there and I can run a time unlike last year and I was like, 'I just have to finish the race because I'm scared of dying.' Now, it doesn't even cross my mind because it's just about my time. First isn't enough, I don't just want to be first, I want my time to be like, 'Whoa.'"