Baldwin school board told other districts share concerns about modern math textbooks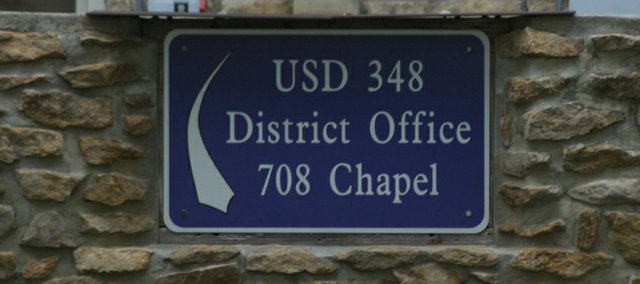 Apparently, Baldwin High School math teachers are not alone in their concerns about the less-than-challenging content of contemporary math textbooks.
Last month, Baldwin High School Principal Rob McKim and math teacher Mike Curran presented the Baldwin school board recommended materials for math instruction. Among the textbooks recommended were 20- and 30-year-old books to be used in the high school's college level geometry and algebra courses.
Board member Sandy Chapman and Sheryl Gill questioned the continued use of the aging textbooks, despite Curran and McKim's defending their use. Newer textbooks were "dumbed down" as math standards were relaxed and there were no current textbooks available that offered the same challenging material in the older textbooks, such as two-column geometry proofs.
Concerned about the age of the books, Chapman and Gill requested McKim survey how other districts were dealing with the problem.
On Tuesday, McKim, a former math teacher, said he visited with educators in Frontier League schools and Lawrence. He found many of the league schools didn't offer the advanced classes available at Baldwin. Eudora does, and its math instructors were also unimpressed with the newer textbooks, he said. 
Unhappy with what was available, Eudora delayed ordering new textbooks before purchasing new ones this year, which it supplements with more rigorous outside material, McKim said.
Free State High School instructors — to whom he was referred when he contacted Lawrence schools — had a similar story, McKim said. Lawrence high schools are reviewing math textbooks. They have delayed a decision with the hope textbooks improve and are currently using 7- to 8-year-old books.
"They don't like what they are seeing," McKim said.
McKim told the board better books might be available soon as publishers respond to a swing back to more stringent standards in Common Core curriculum and elsewhere, McKim said.

"Textbooks haven't caught up with rising standards," he said.
In other business, the board:
• Approved a resolution that will allow the school district more flexibility in the use of capital outlay funds. Superintendent Paul Dorathy said the action was taken in response to the school finance bill the Kansas Legislature passed this session, which allows the expanded use if local boards pass a resolution. The resolution is continuous, unlike the district's former capital outlay authority that the board had to renew every five years, he said.
The measure will not raise property taxes and the Baldwin board will continue to have the authority to set the mill levy annually for capital outlay from 0 to 8 mills, Dorathy said.
• Approved amending the district's sick day/personal day policy for classified employees to a discretionary day system. Baldwin Junior High secretary Patty Irick and Intermediate School secretary Glenda Rockers requested the change at the April board meeting on behalf of classified staff.