Baldwin council approves grant to improve front of downtown building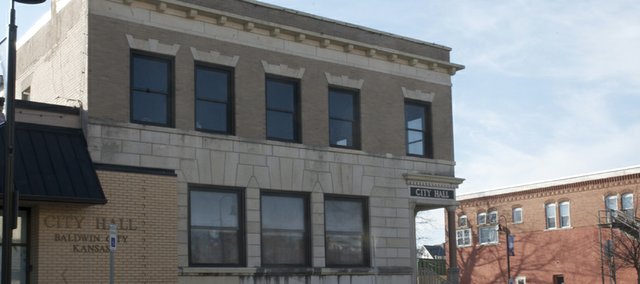 On Monday, the Baldwin City Council approved the second reading of an ordinance that will pass savings in the cost of energy to large commercial customers after first amending the measure.
Earlier this month, the council approved the first reading of an adjustment in the city's electrical rate, which gives large users a break on the demand charge they are asked to pay. The adjustment reflects KCP&L's elimination of its variable demand charge, or a cost added to the price of energy the city purchases during peak demand periods, when it entered into a new contract with the city in December 2012.
The adjustment reduced the demand surcharge added to the city's commercial users from 15 percent of the cost of energy they buy during peak periods to 5 percent. It was estimated the change would reduce the annual electrical bill of the city's largest customer, Baker University, by about $15,500.
Before the measure came to a vote Monday, Councilman Jason Mock, who chairs the council's utility sub-committee, proposed amending the ordinance so that it would sunset on June 1, 2015. That new wording was offered as a hedge against KCP&L adding the variable demand charge back into the agreement it negotiates with the city next year.
After the amended ordinance was approved, Councilwoman Christi Darnell said it made formal her conversations with Baker officials about the possibility the charge would return.
In other business, the council approved a grant application from Alan and Amy Wright to upgrade the façade of the storefront they own at 715 High St.
The city created the grant program last year. It makes 50 percent matching grants of up to $5,000 available to property owners for the improvement of building facade in the central business district. The Wrights' application was the first the city has received for the grant.
Alan Wright was a partner in the renovation of the building at 600 High St. His three partners in that venture said Wright was behind many of its design features, including its Victorian façade.
Like that renovation, the proposed improvements for the 715 High St. property would include stripping the paint off the front of the building down to the brick, tuck-pointing the masonry and the addition of a Victorian window/entry ground-floor facade.
Councilman Shane Starkey, chair of the council's community development committee, said the Wrights would receive the $5,000 grant when they provided receipts for the $18,000 renovations at the project's completion.