Baldwin City pool to open Saturday with free admission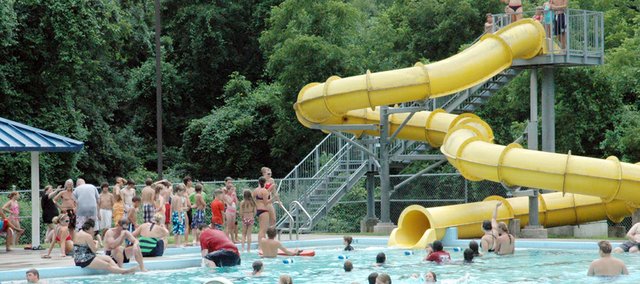 The Baldwin City Municipal Pool will open Saturday with no shortage of lifeguards.
It was reported last week a shortage of lifeguards was a problem for the city of Lawrence, but Tammy Michael, who manages the Baldwin City pool for the Baldwin City Recreation Commission, said she had hired 20 lifeguards for the coming season, which was the same number as worked the pool last summer. The crew is a good mix of veteran and new lifeguards, she said.
BCRC director Steve Friend said the BCRC paid a bit more than Lawrence and handed out raises to good lifeguards to entice them back.
The pool is filled and the cool water is being warmed with a gas heater to make it comfortable for Saturday's opening, Friend said.
Pool hours this summer will be from 1 to 7 p.m., with the pool open daily from Saturday through Aug. 17, Friend said. There will be free admission for the pool's opening Saturday and again Monday for Memorial Day, he said. The Wednesday evening free community swim offered last year will be continued this season from 8 to 9:30 p.m. starting June 4, he said.
The popular morning lap swimming would also be expanded to three hours from 6 to 9 a.m. Monday through Saturday beginning June 2, Friend said.
Also new this season are 15 additional lounge chairs to be placed on the pool's deck, Friend said.
Michael took over management of the pool this year when Nancy Arnold gave up the job she'd held for the past 20 years. But Friend said Arnold would still help with swim lessons.
Those looking to enroll children is swim lessons, which start June 2, should do so quickly because spots, particularly in the younger classes, were filling rapidly, Friend said.