Baker bids goodbye to Class of 2014 and longtime president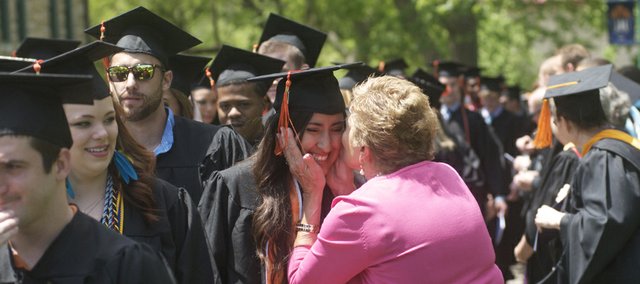 Near the start of Sunday's commencement for Baker University's 148th graduating class, senior class president Nancy Delgado said more than 154 undergraduates in the university's schools of nursing and arts and science were graduating at the ceremony.
"I would like to thank Dr. Pat Long, who in a sense is also graduating today," Delgado said after noting how she and her classmates had transformed from timid freshman to confident, responsible graduates ready to contribute to society.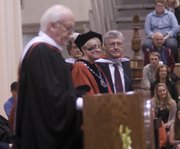 Delgado was making reference to Baker University President Long's retirement after eight years in that position. Long will turn the reins of the university over July 1 to Lynne Murray, a vice president at Gallaudet University in Washington, D.C., who in December was selected as Baker's 29th president.
Delgado's comment became more than symbolic later in the ceremony, when Baker University conferred honorary doctorate degrees on Long and her husband, Dennis Long. In announcing the honor for Baker's first female president, Rich Howell, chairman of the Baker Board of Trustees, cited such accomplishments under her leadership as the completion of the $11.3 million Ivan L. Boyd Center for Collaborative Science Education, the multimillion-dollar renovation of the Baker student center, the Quest reform to the university's general studies curriculum, the introduction of a doctorate program for professional studies and the rollout of Baker's Institute of Leadership for Positive Change.
Dennis Long was honored for his support of Baker's arts and sports programs and volunteer work as a Web designer for many Baldwin City nonprofit organizations.
Long, who was also the day's commencement speaker, used her remarks to turn the attention back on the graduates. Quoting from her favorite musical, "Wicked: The Untold Story of the Wizard of Oz," Long explained how two friends overcame adversity and corruption to make things better, noting the musical's song "For Good" ends with the line "because I know, I have been changed for good."
She was confident the Baker experience had changed the graduates for the good, Long said. It was her hope that trend would continue as Class of 2014 members went on to graduate school, jobs or — like her — a slightly more uncertain future.
"What I want for you and what I want for me is that whatever we do, we will be good, we will do good and we will have made life better for everyone out there," she said.
As she stood outside with her degree after commencement, graduate Alyssa Paul, who will teach in the Spring Hill school district next year, said it was special to be part of Long's final graduating class.
"Pat Long came to Baker when my older brother was here, so we got to know her as a family very well," Paul said. "She takes an interest in all the students. You can tell she genuinely cares about all of us."
Graduate Sheldon Farrell said it would have been disappointing to graduate after Long's retirement.
"She's always been there for us, and I'm sure she always will be," he said. "She will definitely be missed."
Farrell, who will teach in the Bonner Springs school district next year, said Long and the campus community atmosphere she fostered made Baker work for him.
"I transferred from two schools before starting at Baker," he said. "I feel like the relationships I had here are why I've had success."