Student center dedication, wedding vow renewal among Baker alumni weekend highlights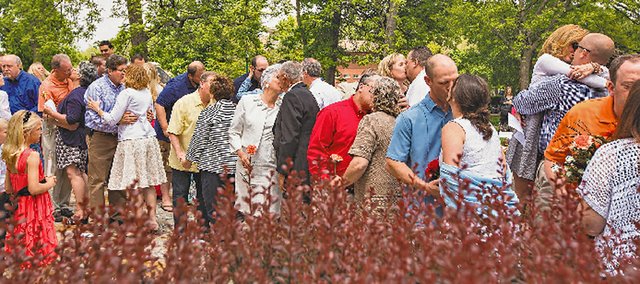 Among the 35 couples to gather Saturday for a wedding vow renewal ceremony outside Baker University's Osborne Chapel was a pair months away from their 50th anniversary of tying the knot and another barely two weeks removed from their wedding day.
A commonality shared by both couples: they met on the same campus that this weekend is the site of numerous alumni activities and a commencement ceremony.
"It just seemed like a good fit," said Bill Scott, who renewed his vows with Kay, his wife of almost 50 years. Hours away from his class' 50th reunion gathering, Bill said they met on campus when both were students and Kay was in a sorority.
Baker's string quartet played as two flower girls sprinkled orange petals to usher in the couples. In presiding over the ceremony, the Rev. Ira DeSpain took part in one of his final acts as campus minister. DeSpain retires this weekend after 22 years at Baker.
At the end of the ceremony, DeSpain told the couples that one of the perks of being married was they got to kiss anytime they wanted. "You don't need me to tell you it's time," he said.
DeSpain took photos with couples afterward, one of which hadn't even received their original wedding photos yet. Bryan and Heather Kindle renewed their vows Saturday just two weeks after their May 3 wedding. He played baseball and she played softball before graduating from Baker last year. They met just a month into freshman year.
"All our memories together have been at Baker," Heather said.
'Dr. Pat's Place'
Also bidding farewell this year is Baker's president, Patricia Long, whose retirement after eight years as the university's first female president will be effective July 1. Just ahead of that date was Saturday's ribbon-cutting ceremony for a nearly $7 million student center in her name.
"When students walk into this building, why wouldn't they want to come to Baker?" said Long, who said prospective students decide within three minutes of a campus whether they want to attend.
The center's new features include a coffee bar and expanded commons area with a cushioned wraparound couch and tables, and three rooms where students can connect computers to large television screens for presentations.
"We built the project around what students requested," said Susan Lindahl, executive vice president for administrative services.
Lead donor Susanne Richardson Teel said Saturday she will always think of the center as "Dr. Pat's Place." A longtime friend of Long's, Teel said Long's tenure as the university's first female president inspired her to name the project the Dr. Patricia (McCaslin) Long Student Center.
"She's left her mark on the past, present and future of Baker University," Teel said.
Susan Lindahl, executive vice president for administrative services, said the project is solely donor-funded, meaning no debt will be incurred. Chamber singers led a rendition of Baker's alma mater before an oversized scissor sliced a large, orange ribbon. DeSpain led the packed center in a couple prayers, shortly before he was to step outside for the wedding vow renewal ceremony. He told the audience to brace itself for an emotional weekend.
"Stick around and hold on," he said. "You never know what's going to happen next."