Baldwin High School Class of 2014 told to overcome adversity with positive attitudes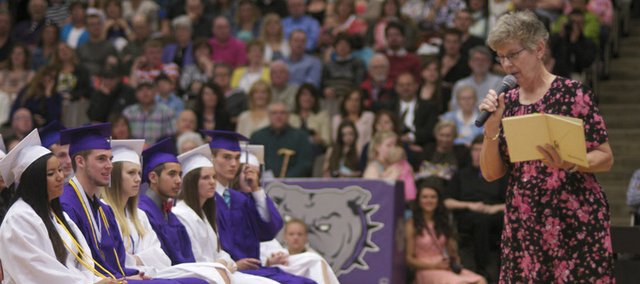 During Saturday's Baldwin High School commencement, senior Allison Waymire reminded her classmates of the trip they made together to become the school's 127th graduating class.
Six years ago, a core group of 71 of the 93 graduates joined together from Baldwin, Marion Springs and Vinland elementary schools as seventh-graders at Baldwin Junior High School, she said.
"Think about that," she said. "Seventy-one people have lived together for nine months for six years — 54 months of laughter, tears, good times and bad times."
Those past ups and downs were a taste of what was ahead, Ginny Honomichl told the graduates as the commencement's guest speaker. The former BHS science teacher and coach said students shouldn't expect a steady incline of success and happiness because life was a series of peaks and valleys.
"You're not given a good life. You're not given a bad life," she said. "You're promised a life. It's what you do when times are tough, that make a difference."
Leaving the podium to talk more intimately to the class, Honomichl shared a personal tragedy with the students to illustrate how quickly life can change. On Halloween 2012, a holiday that is always a favorite because it falls the day before her birthday, she was driving to visit her grandchildren in Missouri when she received a call from her sister informing her that her parents were dead, Honomichl said. She arrived at their home to learn it had been a homicide-suicide. But Honomichl said as she took in the scene, a "God thing" of positive thoughts happened. She became thankful it wasn't her grandchildren, of the time she spent with her parents and that the last thing she said to her mother the night before on the phone was, "I love you."
"That was a pretty big valley for me. Positives. Don't ever give up. Know that the greatest achievements, the greatest successes, the greatest awards, the greatest miracles happen after great opposition."
It was a lesson class speaker Jenna Von Bargen suggested the graduates had already learned. She fell in love with the high school after witnessing acts of kindness and acceptance, she said, including watching her fellow students rally around a student who suffered a stroke.
"Even those who didn't know her at the time sent her prayers, well wishes and care packages," she said.
A second point Honomichl made to the students was to identify and nourish their gifts.
"If you are fortunate to make a living through your gift, cherish it," she said. "For many years I couldn't believe I was getting paid to do a job I would have done for nothing."
As the graduates gathered in the hallways surrounding Baldwin Junior High School gymnasium following commencement to share hugs, tears, fist bumps and photo selfies, Class of 2014 friends Madeline Miley and Morgan Linder spoke of plans that will have them following their passions.
Miley said she would attend Baldwin Wallace University in Berea, Ohio.
"I'm going to study art management," she said. "I'll have a life in art."
The move will separate the two friends, but they said they got a taste of that their senior year when Linder studied at the Fort Hays State Science and Math Institute. Linder said she now plans to major in biology at Kansas University.
The two friends were members of what student speaker Madeline McCrary said was the best class ever at Baldwin High School.
"Every year, graduating seniors stand on this podium and tells why theirs is the greatest class to pass through this school," she said. "The difference is this year, we really are."
A light-hearted McCrary offered as proof statements from faculty of the Class of 2014's academic ambitions, dedication to sports and activities and well-rounded interests in clubs and organizations.
"We can make changes and have a positive effect on our world," McCrary said. "We have the talent and the ability. Let's not forget to enjoy each day of our lives while me make our dreams come true."
After the ceremony, graduate Andrew Simpson said he was eager to start pursuit of his dream.
"This is great," said Simpson, who will enroll at Kansas University next fall to study mechanical engineering. "I'm really ready to move on from Baldwin High School. I'm ready for the next new experience."