Baldwin boys win 3rd-straight league track crown,
BHS

girls quality falls to Paola's quanity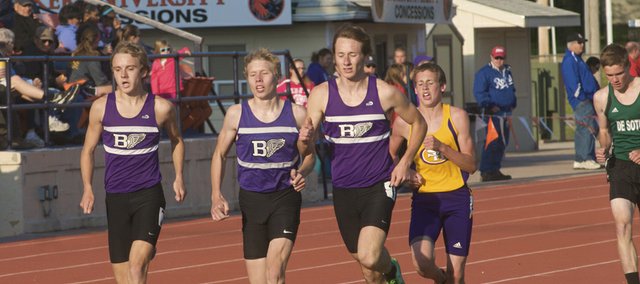 Baldwin and Paola battled for dominance at Thursday's Frontier League meet at Liston Stadium with the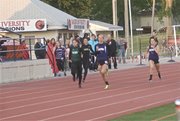 Frontier League results
Frontier League team standings:
Boys: Baldwin 188, Paola 143, Louisburg 92.5, Spring Hill 52, Ottawa 51.5, De Soto 45, Eudora 35
Girls: Paola 201, Baldwin 166, De Soto 58, Spring Hill 53, Eudora 49, Louisburg 38, Ottawa 33
Baldwin results:
Girls: Pole vault - Devyn Harman, fourth, 7 foot
Long jump – Kylee Bremen, second, 15-01
Triple jump – Harman, sixth, 28-06
Shot put – Alexia Stein, first, 42-06.5; Kelsey Kehl, fifth, 35-00.5; Jordan Hoffman, sixth, 34-8.5
Discus – Stein, second, 132-04; Kehl, third, 124-07; Hoffman, fourth, 122-06
Javelin – Kylee Bremer, first, 131-02.5, Kehl, second, 129-07; Hoffman, third, 122-04
4x800 – Baldwin, second, 10:07.29
100-meter hurdles – Maddie Ogle, first, 16.25
100-meter dash – Carlyn Cole, first, 13.01; Kylee Bremer, third, 13.43
1600-meter run – Addie Dick, fifth, 5:46.06; Daelynn Anderson, seventh, 5:50.19
400 meters – Morgan Lober, first, 57.81; Faythe Peterson, fourth, 1:03.61; Kyna Smith, fifth, 1:03.68
300-meter hurdles – Ogle, first, 48.68
800-meters – Hannah Hutton, fifth, 2:35.25; Emma Grossner, seventh, 2:37.61
200 meters – Morgan, first, 26.6; Cole, third, 27.29
3,200 meters – Anderson, seventh, 13:03.56
4x400 meters – Baldwin (Smith, Peterson, Cole, Lober), first, 4:01.95
Boys:
Pole vault – Joel Katzer, second, 11-05
Shot put – Quinn Twombly, third, 50-06.5
Discus – Christian Gaylord, third, 160-04; Twombly, fourth, 143-03
Javelin – Twombly, third, 159-02; Jake Katzer, fifth, 155-05
4x800 – Baldwin, first (Joe Pierce, Dakota Helm, Zach Smith, Ethan Hartzell), 8:13.22
110-meter hurdles – Jake Katzer, fourth, 17.70; Joel Katzer, sixth, 18.05
1,600 meters – Hartzell, first, 4:38.52; George Letner, second, 4:43.43; Joe Pierce, third, 4:47.29
4x100 meters – Baldwin, first, (Joel Halford, Craig, Johnson, Berg), 44.12
400 meters – Berg, second, 52.65; Caden Carmack, fifth, 54.12
300-meter hurdles – Joel Katzer, third, 43.03; Jake Katzer, sixth, 44.06
800 meters – Pierce, first, 1:58.76; Helm, third, 1:59.47
200 meters – Carmack, second, 23.64; Craig, sixth, 24.67
3,200 meters – Hartzell, first, 9:54.65; Letner, second, 10:21.63; Dunn, third, 10.26.14
4x400 meters – Baldwin, first (Pierce, Halford, Johnson, Berg), 3:39.99
Bulldog boys earning the title and a deeper Panther girls team claiming the throne.
The Baldwin boys won eight of the meet's 18 events and racked up 188 points to Paola's 143. The Bulldog girls won eight events to Paola's seven, but were outpointed by the Panthers, 201-166. The two 4A girls track powers far outdistanced the other five teams with De Soto finishing third with just 58 points.
It was the last home meet for retiring girls coach Ted Zuzzio. He was proud of his team's competitiveness, but noted the seven-team event gave the advantage to a deeper Paola squad.
Among the gold medal winners for the Baldwin boys were Ethan Hartzell in the 1,600- and 3,200-meter run, Joe Pierce in the 800 meters and Chad Berg in the 100-meter dash. The boys also claimed the 4x100, 4x400 and 4x800 relay events.
"The kids did a great job of taking care of business and bringing home their third-straight league title," said boys coach Mike Spielman. "We had many PR's and athletes who scored in the top seven to help us win the meet. It is always great to win the title at home and have all the people here to cheer them on and help support them."
For the girls, senior Morgan Lober won the 200- and 400-meter dashes and anchored the winning 4x400-meter relay team. Junior Maddie Ogle also turned in another double gold performance, winning the 100-meter and 300-meter hurdles. Junior Alexia Stein claimed gold in the shot put, but was second to Paola rival Kelsey Swanson in the discus. Sophomore Kylee Bremer's meet record effort of 131-02.5 in the javelin was good enough to best teammate Kelsey Kehl for the gold medal. Sophomore Carlyn Cole won the 100-meter dash and junior Jordan Hoffman gave Baldwin a medal sweep in the event with her third-place finish.
The meet's outstanding performance was probably that of Ottawa senior Kord Ferguson, who established meet records in the shot put (60-04.5) and discus (195-08).
The Bulldogs will next complete at the 4A regionals Friday at Basehor-Linwood. The goad is not only to win the events but to qualify athletes for the state meet the following weekend in Wichita.
"Regionals has 16 schools competing next Friday at Basehor, so more of the points will be spread more evenly and our quality should rise to the top," Zuzzio said. "Survive and advance next Friday to get to compete in the big show at Wichita."