Father, daughter make Baker spring graduation a family affair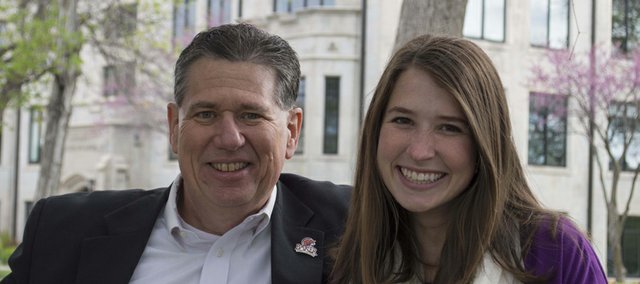 A father and daughter from Gardner are sharing the joy of earning degrees from Baker University this spring.
Dave Drovetta, director of quality management and compliance for Physicians Reference Laboratory, earned a bachelor of business administration degree from the School of Professional and Graduate Studies. His ceremony was May 10. Teresa Drovetta, Dave's youngest of four children, will receive a bachelor of science degree from the College of Arts and Sciences at 1 p.m., Sunday, May 18, at the Collins Center.
Dave took an unconventional path to earn his bachelor's degree. Originally from the southern Illinois area before moving to Gardner in 1987, he took classes in the late 1970s at the University of St. Francis and Southwestern Illinois College while working at National Steel Corporation, where his job responsibilities as a water quality technician increased.
"I had planned to earn a degree while working, and then life happened," said Dave, who has been married 31 years to Margaret Drovetta, an academic records assistant in Baker's registrar's office.
After National Steel, Dave was a quality manager at Nellcor Puritan Bennett, director of manufacturing at Goodrich Aerospace and quality manager at Embarq Logistics before he secured his current position in 2006.
Because of his vast career background, Dave was able to share his experiences during classroom discussions on Thursday nights with his classmates at the Overland Park campus. He enrolled in an associate degree program in 2011 before transitioning to the Bachelor of Business Administration program with a concentration in healthcare administration.
"My career allowed me to take the theory presented in the classroom and understand it better based on my experiences," said Drovetta, 55. "It is a great program. I really enjoyed the classroom interaction, and that was important to my experience."
Dave also served four years (2009-2013) as mayor of Gardner after 14 years as a member of the Gardner City Council.
"My career helped me in governance, and the governance role helped me in my work as well," Dave said.
For the past couple of years, Teresa was impressed by her father's ability to manage work, his studies and mayoral duties.
"I am amazed he was able to earn a degree with so much going on in his life," Teresa said. "I was proud of him going back to school. Balancing all of his responsibilities gave me a lot of perspective."
Teresa, a 2010 Gardner-Edgerton High School graduate, transferred from
Kansas State to Baker in 2012 and majored in biology.
"I didn't do very well in a large classroom setting," said Teresa, who was an honors student at Baker and played the bassoon for the symphonic band. "I like the personal relationship with professors and I like to be challenged."
In the fall of 2013, the father and daughter realized they were on pace to graduate at the same time. The two plan to have a combined celebration on May 18 in Gardner, where they will be joined by Margaret and the other children in the family, Megan, Laura and Adam.
After graduating, Teresa plans to enroll in Baker's School of Nursing at Stormont-Vail HealthCare in Topeka, Kan.
"I knew I wanted to do something in the medical field," she said. "I like the idea of nursing because there are a lot of opportunities to pursue a master's degree."
There is a chance the two could share in another commencement ceremony after Teresa completes the nursing program. Dave is considering enrolling in Baker's new Master of Arts in OrganizationalLeadership program, which provides future organizational leaders the opportunity to develop versatile leadership skills in social justice, global citizenship and entrepreneurial spirit.
"More companies are looking at the softer side of management as the millennials want more work-life balance," Dave said. "It is conceivable we could graduate again at the same time in two years."