Baldwin track teams warm up for league by claiming both Red Bud titles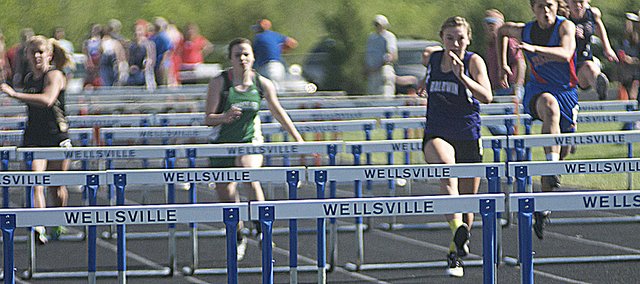 Baldwin junior Alexia Stein found the right incentive to spur a personal best effort in the discus from teammate Kelsey Kehl at Friday's Wellsville Red Bud Classic.
When Kehl asked the junior for water before her qualifying round, Stein said she would provide it if her teammate threw 130 feet. Kehl promptly unleashed a personal best throw of more than 131 feet to earn a bottle of water.
BHS Wellsville results
Girls: shot put: Alexia Stein, first, 44-01; Jordon Hoffman, sixth, 35-0.5; Kelsey Kehl, first, 135-06; Kylee Bremer, second, 123-03; discus: Hoffman, third, 122-01; Stein, first, 148-08; Kelsey, third, 131-05; Hoffman, fourth, 120; 4x800-meter relay: Baldwin () third, 10:02.69; 100-meter hurdles, Maddie Ogle, first, 16.69; 100-meter; Carlyn Cole, first, 12.91; 1,600 meters: Addie Dick, fifth, 5:45.02; 4x100 meters, Baldwin, first, 50.41; Morgan Lober, first, 57.52; Fayth Peterson, fourth, 1:02.96; Kyna Smith, fifth, 1:03.13; 300-meter hurdles: Ogle, first, 48.74; throwers relay, Baldwin, third; 3,200 meters: Dick, fifth, 12:36.19; 4x400 meter, Baldwin, first, 4:04.28
Boys: shot put: Christian Gaylord, second, 51-02, Quinn Twombly, fourth, 49-06; javelin, Twombly, third, 166-08; discus: Gaylord, third, 153-08; Twombly, sixth, 138-11; pole vault: Joel Katzer, first, 12-06; Braxton George, sixth, 10 feet; 4x800 meter: Baldwin, first, 8:02.86; 200 meters: Caden Carmack, sixth, 23.64; 100 meters, Chad Berg, first, 11.25; Tim Craig, second, 11.30; 1,600 meters, Ethan Hartzell, first, 4:30.18; George Lettner, fourth, 4:44.23; Nevin Dunn, sixth, 4:50.38; 300 meter hurdles: Joel Katzer, fourth, 42.73; 800 meters: Joe Pierce, first, 1:58.63; Dakota Helm, third, 1:59.97; Zach Smith, sixth, 2:09.51; 200-meters, Carmack, fourth, 23.67; 3,200 meters, Hartzell, second, 9:55.67; Lettner, fifth, 10:39.19; 4x400 meter relay, Baldwin, third, 3:30.74
Stein had reason to be generous. She had already thrown for a personal best, meet record and best-in-state distance of more than 148 feet. It was an effort she would duplicate with her winning throw in the finals of 148 feet, 8 inches. Kehl would also follow up her qualifying throw with a third-place effort of 131 feet, 5 inches.
Kehl and Stein added gold medal efforts in the javelin and shot put, respectively. Kehl paced a Bulldog sweep of the javelin with a winning effort of 135 feet, 6 inches. Sophomore Kylee Bremer was second (123-03) and junior Jordan Hoffman was third (122-01). Stein scored another first-place finish in the shot put (44-01).
But once again, the Baldwin girls track team was more than its impressive throwing cadre. Senior Morgan Lober won the 400 meters with a time of 57.52 seconds, which was nearly a second better than the meet record set in 1997. Lober also ran legs on the winning 4x100 and 4x400-meter relay teams. Junior Maddie Ogle continued her recent success with first-place finishes in both hurdle events.
With the combined effort, the Bulldog girls edged Frontier League foe Paola, 131-128, for the team title. The boys also claimed the team title, scoring 124 points to the 73 second-place Bonner Springs earned.
"We did a good job of getting ready for the big-three — (Frontier) league, regionals and state," boys coach Mike Spielman said. "Now, we just need to stay healthy."
Notable of the boys were seniors Chad Berg and Tim Craig's first- and second-place finishes in the 100 meters and junior Joe Pierce 800 meter gold. Pierce ran a leg for the 4x800 meter relay, which established a new meet record with the time of 8:02.86.
Other Baldwin gold medalists were senior Ethan Hartzell in the 1,600 meters (4:30.18) and sophomore Joel Katzer in the pole vault (12-06).
Up next for the Bulldogs is today's Frontier League meet at Liston Stadium.