Baldwin High School soccer team wins third straight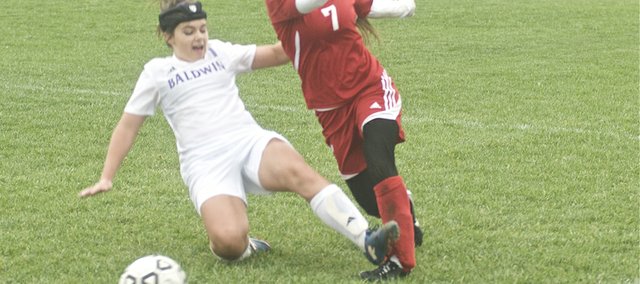 The Baldwin High School girls soccer team continued its late season turnaround on Monday with a 3-1 home victory against Ottawa.
It was the third-straight victory for the Bulldogs and the fourth in the last five games. The win improved Baldwin's season record to 5-9.
The senior day match was never in doubt as the Bulldogs scored three first-half goals, with Emma Burnett, Erica Petry and Sierra McKinney all finding the net.
"We passed the ball really well in the first half and that helped us jump out to a lead," coach Erryn Kindle said. "We're coming around at the end of the season — just when you want your team to be at its best."
The Bulldogs' scoreless second half came as a result of Kindle rewarding seniors by letting them play wherever they wanted.
"We had some girls playing out of position," he said. "We wanted to let them have some fun."
Baldwin's one remaining regular season match will be Thursday on the road against Maranatha Academy. Kindle said the Shawnee club was about a .500 club but was unsure the level of its competition.
Post-season seeding will be determined Saturday, Kindle said. Baldwin is cusp of being a lower- or higher-seeded team when first-round sub-state action starts Monday, adding importance to the Maranatha match.