Baker online enrollment explodes under President Pat Long's leadership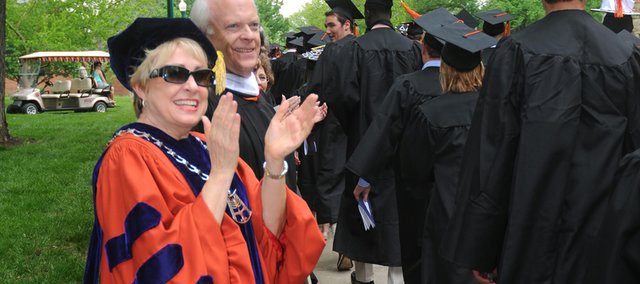 The presidents of large state universities are usually lucky to get to know even a small fraction of their many thousands of students. On the other side of things, Baker University President Patricia Long estimates she knows about 90 percent of the names of her students graduating this summer.
Since beginning at Baker in 2006, Long has seen students go on to become lawyers, doctors, nurses and school administrators. That, she said, has been perhaps the biggest point of pride in her time at Baker, which will come to an end this summer as she heads into retirement.
"One of the joys of being here is being involved in their lives," Long said of her students.
Her retirement marks the end of a long career in higher education that also includes leadership posts at Johnson County Community College and the University of Missouri-Kansas City.
For Long, who holds a master's degree in adult education from Central Missouri State University and a doctorate in educational policy and leadership in higher education from Kansas University, Baker was a special challenge and a special place.
Currently Baker has about 950 students on its main campus and nearly 4,000 on all its campuses across Kansas and Missouri. As a small private school, it doesn't have the advantage of state funding or a massive alumni base to provide donor support. Even so, the school has expanded its programs, facilities and donations during Long's tenure.
When Long started, about five percent of its students were enrolled in online courses. With online programs in business, education and other fields, that figure has exploded. Today about 50 percent of Baker's students take online courses, Long said.
The change is a reflection of broader changes in the higher education field. Competition for students has come from the crop of for-profit colleges popping up across the country, as well as from brick-and-mortar schools starting online and distance learning programs to expand their reach and revenues.
Baker has responded with new degrees and programs, including the Institute for Leadership and Positive Change that spawned a master's program in organizational leadership.
"One thing about being a little bit smaller is you can be more flexible and quicker," Long said.
The campus itself has also changed since Long began as president. At a cost of $11.43 million, a new science education facility represents the largest capital campaign in Baker's history. The university also built a new 200-person residence hall, the first in nearly 50 years, and revamped its dining hall and student center, which will bear Long's name.
Long became Baker's first female president since its founding more than 150 years ago, and she will be succeeded by a second female head, Lynne Murray, who will join Baker after serving as vice president of development, alumni and international relations at Gallaudet University in Washington, D.C.
Even after she retires, Long will continue to consult for Baker on the leadership institute. But she'll leave Baldwin City, and with it the Baker community she was worked with for eight years, for acreage in central Missouri to be closer to her parents.
"I've made a lot of friends" at Baker, Long said. "That's the hard thing. It's a magical place."