Baker campus minister notes positive changes in student body attitudes as he nears retirement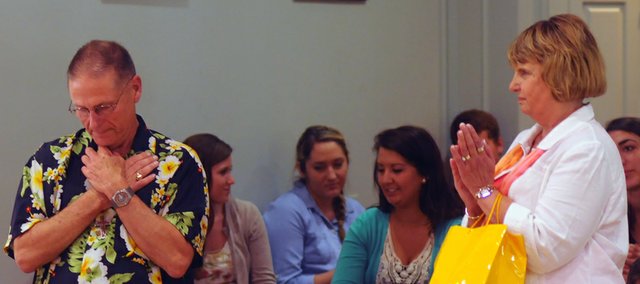 The Rev. Ira DeSpain will start a difficult two years beginning June 30.
That's the date DeSpain will relinquish the position he's occupied since 1992 as Baker University campus minister. It also will be his last day as a full-time United Methodist Minister.
When asked, DeSpain admits it's an open question how he'll adjust to retirement.
"I'll be better able to answer that in a year," he said Thursday afternoon in his office in the basement of Osborne Chapel. "But it's time. As long as I get to say 'it's time' rather than someone else, that's a good thing to me."
He and his wife, Barbara, have made plans to help with his transition. They've built a new home in Olathe near their daughter, and he has committed to be worship leader two times a month at a Kansas City community church. The couple also plans to frontload their joint retirement with travel while they know they can enjoy it.
But no matter how successful those plans are, DeSpain knows he will have withdrawal pangs as students start returning to Baker late this summer.
"I know I'm going to miss it the third and fourth week in August when it's time to start gearing up," he said.
DeSpain won't be able to ease withdrawal feelings with a quick half-hour trip from Olathe to his alma mater at least for two years. United Methodist rules forbid ministers from returning to congregations for that period, so that new ministers can get established with no fear of interference from popular predecessors.
DeSpain said he will watch Baker play its rival MidAmerica Nazarene next fall in Olathe, but he will sit on the MNU sideline with his orange Baker hat.
He's made transitions before during his career in the ministry, and they were all difficult, DeSpain said. He adjusted, just as he adjusted to the different demands of a campus ministry and the realization his place would not be that of traditional ministers, who are the centers of their congregations, DeSpain said.
"On a college campus, the minister is an added attraction," he said. "It was a difficult thing, trying to find my place on a college campus. My place is being the embodiment of faith."
That means leading prayers at university and community functions, being there for students in crisis, helping with the retention of students and performing weddings for students, DeSpain said.
Being Baker's minister for 22 years meant embracing further change as the student body changed.
"Students are more spiritually interested than when I first came here," DeSpain said. "When I first arrived, I had to try to convince people to pay attention to spirituality. Now it's, 'I pay attention to spirituality. What do I do with that? How does that play out?'"
Most often, the answer is community service, DeSpain said. Unlike a generation ago, it is something many students bring with them to Baker, having already taken part in missions to Honduras, Haiti or other third-world countries.
DeSpain attributed part of the change in attitude to a greater sense of vulnerability born with the recession.
There has also been a change in students' social attitudes, particularly to the LGBT community, DeSpain said.
"The campus has been way ahead of the church on that," he said. "Just like people come to college already experienced in community service, many have gone to school with openly gay students. They are a lot more accepting than society in general."
DeSpain is leaving the campus the same day as Baker President Pat Long and other key university leaders start their retirement. For his part, that's purely coincidental, he said.
"We've been real clear on that," he said. "My wife and I decided in 2008 that 2014 would be time for me to retire. It's a decision based on our family, our needs and desires. My wife retired in 2008 and has been waiting for me to join her."
Nonetheless, it may have worked out for the best that incoming President Lynne Murray will start with a new team, including campus minister Kevin Hopkins, DeSpain said.
"He comes to this with a lot more experience than I did," he said of the former campus minister at Kansas Wesleyan University in Salina. "He'll be able to build on what's here and take it in new directions. I'm excited for the new president, Lynne Murray. She understands how the values of the church are related to the college."