55-year-old veteran to receive master's degree Saturday from Baker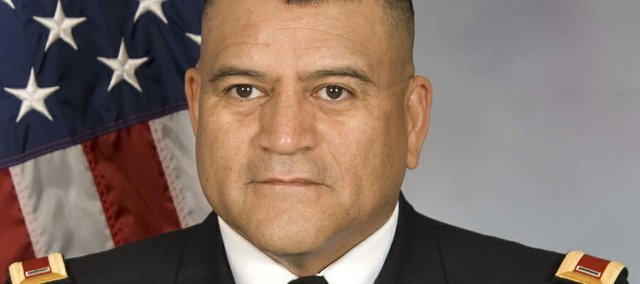 As the state command chief warrant officer for Kansas, Hector Vasquez is a strong advocate for lifelong learning.
Vasquez, who has served 34 years in the military with plans to retire in three years, earned a master's degree in management from Baker University, consistently recognized as a military friendly school. He will join eight of his classmates during a commencement ceremony on Saturday, May 10, at the Collins Center on the Baldwin City campus.
Starting in May 2012, Vasquez, 55, traveled every Thursday from his home in Perry to Baker's Overland Park campus — two hours round trip — before completing his coursework in early January 2014.
"One of my top goals for warrant officers is to increase their education," said Vasquez, the first in his family to serve in the military and first in his family to earn a bachelor's degree and master's degree. "I inform them how important it is to continue not only their military education but also their civilian education. I also tell them they are never too old to go back to school and learn. I wanted to complete my master's degree to show that I'm serious about education."
In his current military role, Vasquez's duties are related to warrant officer education, management, recruiting and career enhancement. He also formulates and executes policies and procedures that determine how warrant officers of the Kansas Army National Guard are appointed, assigned, evaluated, trained and promoted.
Vasquez, a resident of Perry, joined the military in 1980 because he was interested in electronics. He became a member of the guard to learn how to repair radios and teletype equipment before going into radar system repairs.
During his career, he has served Operation Joint Endeavor in Bosnia and Herzegovina in 1996, Operation Iraqi Freedom in Mosul, Iraq, in 2004-2005 and Operation Enduring Freedom in Kosovo in 2008. He has also been deployed to Armenia, Austria, Germany, Hungary, Ireland, Italy, Japan, Kuwait, Korea, Macedonia, Switzerland and Thailand. He was present for the first elections in Bosnia-Herzegovina and Iraq, and watched Kosovo citizens celebrate their independence.
"Helping people gain their freedom and protecting American soldiers by sending counter-fire missions have been among the most rewarding experiences," he said.
Often after a weekly class, Vasquez headed late those nights or early in the morning to visit a unit in Kansas or out of state to conduct annual training in South Dakota, Wyoming and Washington state.
"I love my job," he said. "I enjoy getting out and talking to warrant officers to see how they are doing and if there is anything I can do to help them with their career."
Vasquez managed his military obligations while earning 36 credit hours at Baker. Courses in the well-rounded Baker's master's program included project management, information systems, organizational culture and dynamics, finance, marketing, human resources, innovative business thinking, legal and ethical environment of business, international business and business strategy.
"I enjoyed my classmates who had a wide spectrum of occupations and were very professional," he said. "They all brought their experiences to the classroom, which made it more interesting and encourageddialog."
Throughout the program, Vasquez had to care for his ailing parents. His mother, Maria, died in September 2013 at age 83, and his father, Jose, died six months later at age 92. The couple, who came to the United States from Mexico, had been married for 62 years.
Vasquez completed a final for instructor Shoula Romano Horing's business ethics class the night before his mother passed away from a long struggle with Alzheimer's.
"Shoula was so supportive because her mother had passed away with the same disease," he said. "She told me I could make up the final, but I knew my mother would have wanted me to finish school and stay on schedule with my coursework. My parents have always been very supportive, no matter what I did."
For the remainder of the program, his father became increasingly ill and was placed in the hospital for a couple of months and a rehabilitation facility. Jose died in March 2014, aware of his son's latest accomplishment.
"When I started at Baker, my mom was already fighting Alzheimer's, but I know she would have been extremely happy," Vasquez said. "Even though they won't be with me physically when I graduate, I know my parents will be with me in spirit and watching me walk across the stage to receive my master's degree. They would be very proud of my achievement."