Baldwin High baseball team stay hot with sweep of Eudora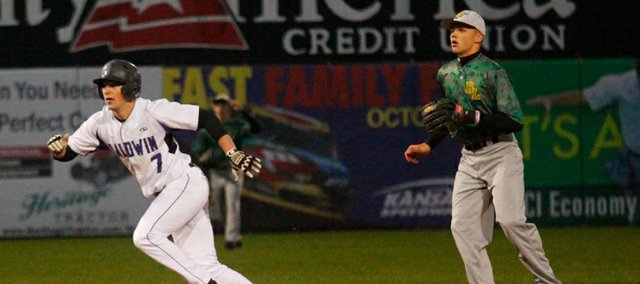 Eudora — The Baldwin Bulldog baseball team is getting hot at the right time.
With post-season play approaching, Baldwin has won seven of its last eight ballgames. The Bulldogs closed out a busy six days Tuesday at Eudora with a sweep of their rival, 10-5 and 2-1.
"It's was a really big series for us because it ensured us a top-two seed in regionals," coach Brian Turk said. "It also gave us a winning season."
Baldwin set the tone early Tuesday, plating five runs in the top of the first. Lead-off hitter Chad Berg got things started with a double and Brock Randels, Collin Linder, Hunter Young and Jackson Barth all singled behind him as the Bulldogs built what proved to be an insurmountable lead.
Senior starter Colton Stark got the win, giving up eight hits and four earned runs in five innings while striking out five Cardinal batters. Linder pitched two innings of scoreless ball to earn a save.
Starter Brandon Mock didn't enjoy that kind of run support in the nightcap, but he was up to the challenge. Mock went the entire seven innings, giving up just four hits.
Berg again got Baldwin off to an early start with a game-starting single. He then stole second, advanced to third of a sacrifice bunt and came home on a passed ball.
Linder scored what proved to be the winning run in the fourth inning. After singling to center, Linder took second on a sacrifice bunt, went to third on a fielder's choice and scored on an error.
Turk said the Bulldogs can still improve but was pleased with the recent success. The key to the team's success is pitchers throwing strikes, he said.
"That's true of every team, but we're not that strong offensively," he said. "We play good defense, generally, so if our pitchers make them hit the ball, we can be successful."
Baldwin fielders and pitchers had a bad day in the team's lone recent loss in its opening game Thursday at the Butch Foster Memorial Classic at Community America Park. The Bulldogs lost to Kaw Valley League opponent Basehor-Linwood, 8-2.
Baldwin bounced back Friday to blow-out Holton in a 17-2, three-inning mercy-rule victory. Baldwin had just seven hits in the win, but drew nine walks, had five batters hit by pitches and took advantage of six Wildcat errors.
Baldwin took complete control early, erupting for 10 runs in the top of the first inning. Berg opened with a walk and Ben Brungardt fouled out to the catcher, then nine straight hitters reached base and scored before Holton could record another out. The inning included six walks, five hit batters and just two hits — singles by Berg and Ben Growcock.
Growcock kept Holton scoreless in the bottom of the inning, then the BHS offense tacked on four more runs in the second. Brungardt hit a double and Randels tripled and the Bulldogs capitalized on four Holton errors to make it 14-0.
The Wildcats got two runs back in the home half, but Baldwin reeled off five more in the third. A three-inning mercy rule went into effect when Holton failed to answer.
Berg had the only multi-hit game, going 2-for-4 with a stolen base and a team-high three runs scores. Growcock pitched all three innings, giving up four hits while striking out three and walking two.
The victory earned the Bulldogs a sport in the tournament's fifth-place game against Bonner Springs. The Bulldogs once again made efficient use of its four hits in earning a 6-2 victory against the Braves.
Berg scored two runs on one hit from his lead-off spots, flashing his speed with three stolen bases. Growcock went 2-for-4 with a run scored and RBI.
Senior starter Young earned the win for Baldwin, giving up two runs in five innings. Linder earned the save.
The Bulldogs, now 12-5 on the year, have a home doubleheader today against Paola. It is senior night for Baldwin.
Justin Nutter (jnutter@theworldco.info) contributed to this story.