Baldwin girls snap skid with sweep of Eudora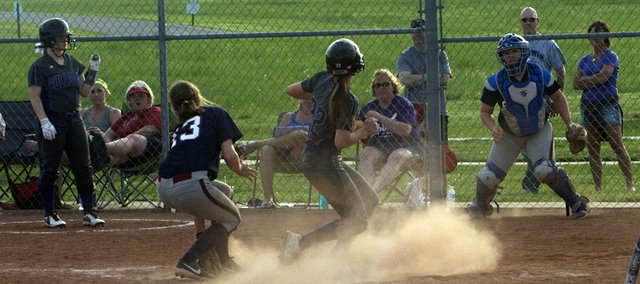 Eudora — The Baldwin High softball team ended an eight-game skid with a doubleheader sweep of rival Eudora, 6-1, 8-2.
Baldwin jumped out in front in the opener when senior Emily Simpson's two-out double brought home junior Sierra Hall. Junior pitcher Kassadie Burton made the slim lead hold up until the Bulldogs put four runs on the board in the sixth inning. She gave up four hits and struck out five in the complete game victory.
Singles by Haley Cope, Kinley Burton, Kassadie Burton and double by Cori Thompson drove in the runs in the decisive sixth-inning rally.
The nightcap was something of a replay of the opener with the Bulldogs again taking a 1-0 lead in the first inning when Hall singled, stole second, went to third on a passed ball and scored on Haley Cope's groundout. Baldwin scored in small-ball fashion throughout the game, putting the game away with a 5-run fifth inning that saw the Bulldogs take advantage of three Eudora passed balls.
Freshman Kinley Burton picked of the victory in the nightcap. She struck out eight, gave up five hits and no earned runs in the complete game win.