Baldwin City shop finds niche in motorcycle world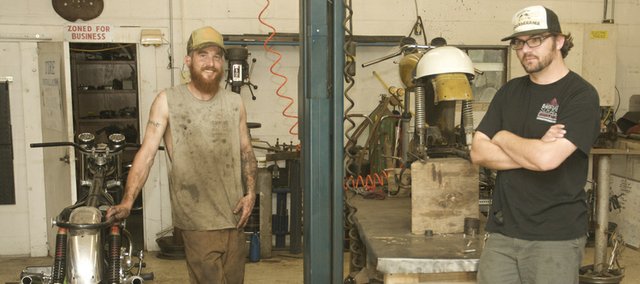 An Internet presence and good word of mouth can go a long way for a business. In the case of Baldwin City's Barnyard Scraps, they have brought customers from such distant places as New Zealand, Singapore, Russia, Germany and Japan.
That speaks to the quality of work its three partners turn out in the east Baldwin City motorcycle shop and their successful exploitation of a niche. Micah Tracy, one of the shop's three owners with Joey Zibell and Shawn Carlisle, says the partners will take on any size job on any brand of motorcycle, but the shop concentrates on the three classic British motorcycle brands of BSA, Norton and Triumph.
"None of these bikes were around for me to own," Tracy said of the British motorcycle brands that fell victim to the Japanese motorcycle invasion of the 1970s. "There's lots of character to them. They just have a great look."
The classic one-, two- and three-cylinder bikes now have a following, even as the Triumph and Norton brand names have been re-introduced. That's good for Barnyard Scraps. Although Harley Davidson custom shops can be found seemingly in every Kansas town, there are few shops with a vintage British bike focus.
Barnyard Scraps rebuilds motors, and sometimes entire motorcycles, shipped to Baldwin City from throughout the United States and the distance locales mentioned above. The three partners search out old bikes and fabricate custom bikes in café racer or hard-tail bobber styles on custom order or to sell over the Internet. It also carries hard-to-find parts for the British bikes.
"We just bought out a closed shop," Carlisle said. "We have lots of new, old parts."
Tracy said he and his brother-in-law Carlisle opened at 803 Third St. three years ago after first working on a project in a family barn. That bit of history and the fact that many of the motorcycles they work on are barn finds, gave the business its name.
Zibell started hanging out at the shop and providing free labor when Barnyard Scraps opened down the street from his house. He made himself so valuable, Tracy and Carlisle eventually decided to make him a partner.
"I'd always heard, you stay with the people who got you there, so we offered Joey a chance to buy in," Tracy said.
Zibell kept his day job after becoming a partner. The shop, and his volunteer work at the Community Garden with his wife, Tammi, keeps him busy, Zibell said.
"I don't get a lot of free time, but I have a lot of quality time with good people," he said. "Just being here is relaxing."
In the partners' division of labor, Tracy works on the motors, Zibell specializes in fabrication and Carlisle handles parts, scheduling, shipping and other business related matters.
Like many new businesses, Barnyard Scraps wasn't an instant success.
"It wasn't a piece of cake," Tracy said. "We sacrificed a bit, getting by on the bare minimum. If we can't afford it, we do without or build it ourselves. We've built a lot of our own tools — engine stands, press brakes and jigging."
Recently, the shop hired its first employee, Frankie Florez, to do the maintenance work coming into the shop so the three partners can concentrate on bigger project. Florez is also certified in Japanese motorcycle repair, a documented specialty Tracy lacks.
Tracy said his goal was to eventually hire more employees to work on basic jobs while the three partners devote more hands-on time to special bike builds.
"I want to make a good living, but I don't want to be huge," he said. "I always want to be turning a wrench."