Baldwin City Public Library expansion nearly completed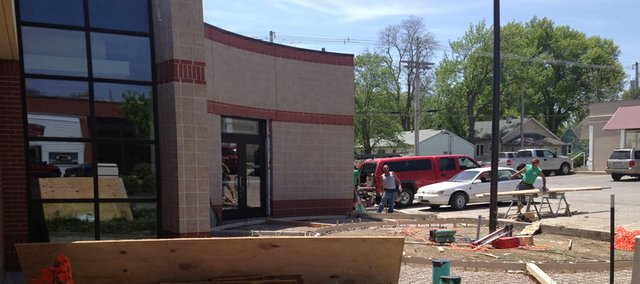 The expansion of the Baldwin City Library is nearing completion and coming in on budget.
"It's awfully, awfully close," City Administrator Chris Lowe told the Baldwin City Council on Monday. "Closer even than it looks. It's coming in on budget. We even have money left in contingency, which is miraculous."
Library Director Kathy Johnston said Tuesday word from contractor Gene Fritzel Construction was that the project would be completed May 16.
Construction crews started working on the $777,000 expansion in December. The expansion added 3,220 square feet to the library's existing 5,958 square feet with an L-shaped expansion to the south and west.
The project included a large meeting room adequate for the Baldwin City Council and municipal court. A smaller meeting room, which can be used for executive sessions, was also included.
The project also replaced the roof of the current library and its heating and air-conditioning systems.
The city is financing $500,000 of the project through a bond issue, which is to be retired with revenue from the city's quality-of-life sales tax. The library board approved funding the rest of the project, with the Friends of the Library donating $25,000.
The expansion was 90 percent finished, Lowe said. He predicted the council would have its first meeting in the new conference room June 16.
Lowe said the Gene Fritzel Construction was known for its finish details in residential homes and that was noticeable in the expansion. He also praised the work of architect Jay Zimmerschied of Lawrence.
"It doesn't look like an addition," Lowe said. "The architect worked very hard to have it match the existing building."
Johnston said once construction is complete, library staff will start reorganizing existing space and moving into the new rooms. It could be six weeks before all is in place, she said.