Baldwin City Boy Scouts honor woman for 50 years of service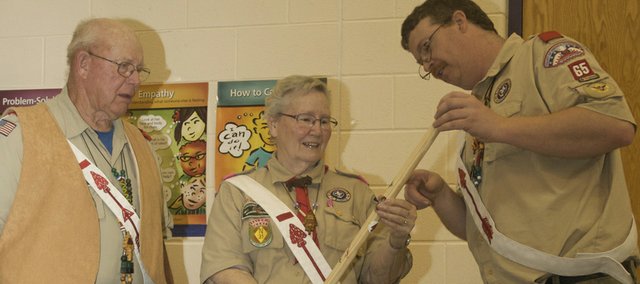 Betty Lawrenz made a lifelong commitment when her son first joined the local Boy Scouts troop.
"I got involved when my son Robbie started as a Webelo," she said. "It's something I enjoy. The kids are fun. I just love being around the kids."
Enough so that Lawrenz has been involved with Baldwin City Scouts for 50 years. A commitment that was recognized Sunday at Baldwin City Troop 65's quarterly honors ceremony.
Tom Farmer, Troop 65 committee chairman, planned the surprise for the person he called the glue of the troop.
"All the kids love her," he said. "She does all the everyday things it takes to keep the troop going. She's pretty much the historian of the troop. She takes care of all the advancement records. She's so reliable."

Zach Garrett, who recently earned Eagle Scout recognition, said Lawrenz wasn't just a bookkeeper. She was also the troop's taskmaster.
"I know when I was working on my Eagle project, she pushed me a lot," he said. "That was good, because I can be a procrastinator."
Lawrenz, who pointed to Garrett's mother, Trenda Garrett, as one of the Scout leaders she admired, said she wanted to see the wheelchair-accessible garden the Scout planned for Vintage Park completed.
"Zach had such a neat project planned, he had to finish it," she said.
She takes pride in Scouts earning the badges and honors she tracks, Lawrenz said. The record keeper also set the record straight on her Boy Scouts longevity. Lawrenz confessed the 50 years weren't all spent with the Boy Scouts. She jumped over the to the local Girl Scouts troop when her daughter's Penny, Jan and Nancy were growing up.
"They didn't go all that far," she said. "After they got out, I stayed on as a coach, teaching others how to be Girl Scouts leaders.
"My son-in-law (Tom Beuthien) got me back into the Boy Scouts when our grandson Aaron started."
Her husband, Robert (Sarge) Lawrenz, also got involved at that time and has been active with the local troop for 17 years.
During her years with Troop 65, she's witnessed the active and inspirational leadership of former Scout masters like John Richards and the late Ivan Boyd, Lawrenz said. Her half-century association traces back far enough she can spot gray-haired or balding men in town she first met in blue Cub Scout uniforms, she said. She's confident the Boy Scouts experience made a difference in their lives and that they took to heart the values of the Scout Law to be trustworthy, loyal, helpful, friendly, courteous, kind, obedient, cheerful, thrifty, brave, clean, and reverent.
"I think it does stay with them," she said. "We work hard to drill it into them."