Baldwin downs Bishop Seabury, 4-0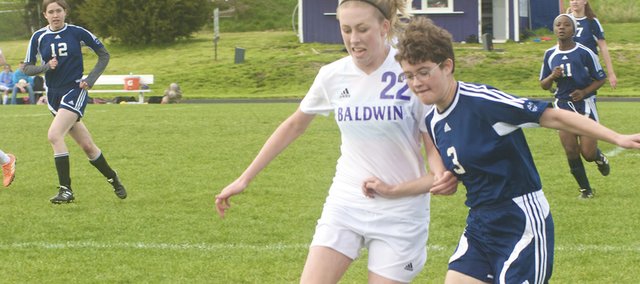 The Baldwin High School girls soccer team today won its third match of the season and its second in the last three games with a 4-0 home shutout of Bishop Seabury Academy.
Baldwin got two goals each from sophomore Erica Petry and junior Sierra McKinney in the victory.
Coach Erryn Kindle said the team stepped up its aggressiveness, which kept the ball on the Bulldogs side of the field much of the match. But he did have a message for his players that would help them offensively — share the ball.
"Then, we were taking shots as soon as we could get them, instead of moving the ball around a little bit and getting even better shots," he said. "But yes, we're coming around. We have a young team but we have good leadership."
The Bulldogs will be back on the field Friday at Tonganoxie. It and the other two matches remaining on the regular season schedule against Maranatha and Ottawa offer his team a chance to build momentum heading into post season, Kindle said.
"If we show up and play well, it will be a good game," the coach said of Tonganoxie. "We have the chance to come out a score some goals. We have the chance to finish strong against teams our own size."