Face to Face: Baldwin Elementary School Intermediate Center Principal Dan Wallsmith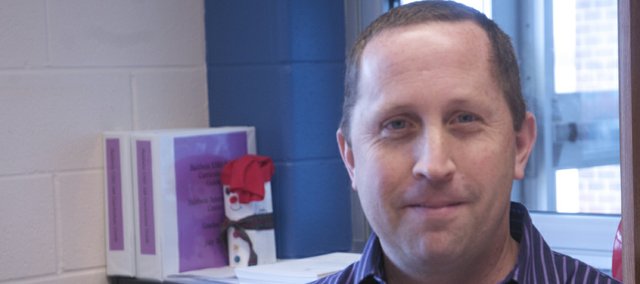 Name: Dan Wallsmith
Born: Leavenworth. "I grew up there and lived there until I moved here when I was 30 years old."
Family: Wife, Heather, and children Anakin, 8, Aidan, 10, and Ann, 21.
Education: Bachelor's from St. Mary University in Leavenworth and master's from Pittsburg State.
Ideal job growing up: "I wanted to be a lawyer when I was a kid. I don't really know why."
Hobbies: "Being home with my kids. We live out in the country, so just doing things with the children on the property."
Digging deeper: Wallsmith said he started teaching in the Baldwin school district at the now-closed Marion Springs Elementary School. While teaching, he was working on his administrative degree at Pittsburg State, which eventually led to his current position. "When the opportunity came up (at the Intermediate School), it was too good to pass up," he said. It was an easy transition because longtime former principal Tom Mundinger left the school in great shape, Wallsmith said.
A principal for nearly five years, Wallsmith said he missed classroom teaching and the direct involvement in learning and lessons. Nonetheless, there is a lot of reward in his current position in being part of a quality education system that is appreciated in the community.
"I like that I live where I work and work where I live."