Baldwin Intermediate School geography bee winner preparing for state competition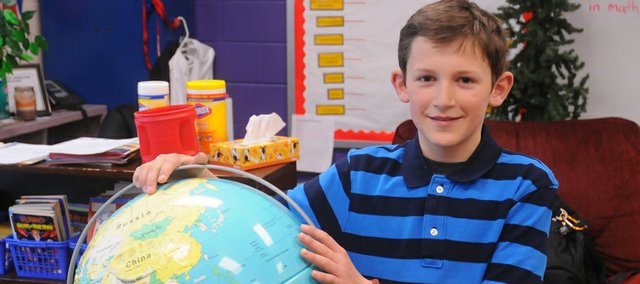 Fifth-grader Grady McCune knows Madagascar is a large island in the Indian Ocean and not just an animated movie.
He can also locate on the map such current global news hotspots as Ukraine and Malaysia. That map knowledge has won the Baldwin Elementary School Intermediate School student the school's geography bee and has earned him a trip Friday to compete in the state geography bee.
McCune said he was good at math, science and social studies, too, but geography gave him a creative outlet.
"I like drawing maps," he said. "I like to draw the continents."
After winning the BESIC geography bee in December, McCune had one of the top 100 scores in the state on a written test to earn a spot in the Kansas Geography Bee finals.
Geography bee success requires students to know more than just where countries, cities, lakes, rivers and seas are on a map, McCune said. They have to know such things as capitals and states, what resources are found in certain regions and the distinctive aspects of places. Such knowledge proved the difference maker in his school bee victory.
"The last of the three questions was, 'What was the busiest shipping bay on the Mid-Atlantic?'" he said. "It's Chesapeake Bay."
The bee is in Abilene, and — of course — McCune knows that is the hometown of President Dwight D. Eisenhower.
He's looking forward to the trip and the competition at the Eisenhower Museum, McCune said. His father, BESIC fifth-grade teacher Matthew McCune, is helping him get ready.
"We don't have the questions, but we're trying to prepare," he said. "My dad asks me questions, and I look it up on the globe."