Baldwin City library knitting circle serves multiple needs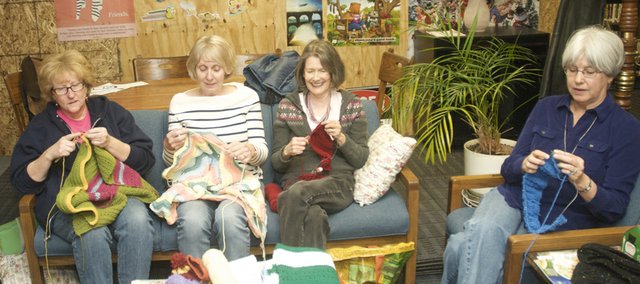 Gloria Hinshaw's busy hands released crochet needles Monday evening long enough for her to consult a notebook with the number of items her needlework group had made for the Christian charity World Vision.
"We've made 25 baby blankets, 10 toddler sweaters and 143 baby hats," she said. "That's the core group of five."
Three of those five core members — Barbara Mathews, Carol Anderson and Helen Graettinger — joined Hinshaw on Monday in the Baldwin City Public Library reading area for their weekly gathering, which is equal parts philanthropy, hobby time and social hour. The fifth regular, Debbie Nolke of Wellsville, was ill.
The group has been meeting for two years, or shortly after knitting came back into vogue, they said. It was a resurgence fueled in part by Maggie Sefton's series of knitting mystery novels, they said.
"Knitting was kind of dead for a while, and then it started picking back up," Hinshaw said. "Kids in college are doing it."
When asked who was the best knitter of the group, three needles pointed to Hinshaw, who said she's been a lifelong practitioner.
"I've been knitting since I was 8 or 10 years old," Hinshaw said. "My grandmother taught me how to knit, and I taught her how to crochet."
Her presence has improved the craftsmanship of the others in the group, Mathews said.
"When I started, I wasn't a good knitter, at all," she said. "It's helped me. These leaders are wonderful tutors."
And willing to share with anyone of any skill level who wants to stop by at 7 p.m. Monday at the library, Mathews said. New members don't need to bring yarn as the group is well stocked with donated yarn to be used for World Vision projects.
Hinshaw also introduced the connection to World Vision and the donation of items to keep babies and toddlers warm in the United States and overseas.
"I've been a supporter of World Vision for quite a few years," Hinshaw said. "They do water projects, food projects and you can sponsor a child. When you sponsor a child, you also help the child's family and their community. It's a neat organization."
The Monday meetings give her something, too, Hinshaw said.
"It's a great way to meet people," she said. "I joined because I worked in a different town, my husband worked in a different town and my kids were involved in a different town, and I wanted to meet Baldwin people and get to know what is going on."
Socializing is an important part of the evening as they stay busy reducing the size of yarn balls in their carryall bags. Anderson said the women hash out world problems and delve into local news.
"It's more fun than sitting around alone," she said. "It's very relaxed here."
Knitting and crocheting is a cool weather pastime that helps keep crafters warm as blankets and sweaters grow on their laps. Because of that and summer's many diversions, the group takes a three-month recess from Memorial Day to Labor Day.
"It's really tough," Graettinger said. "We have a whole lot to talk about in September. Those meetings are really good."