Face to Face: Baldwin City Police Chief Greg Neis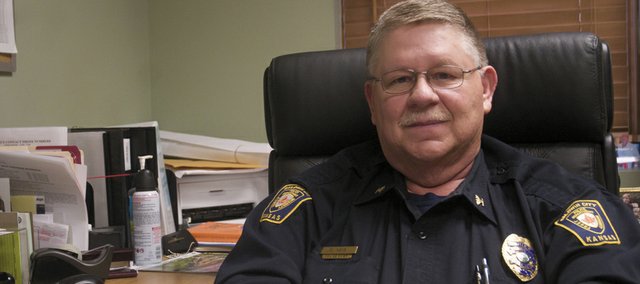 Name: Greg Neis
Born: Lawrence Memorial Hospital in 1954. Grew up on two farms near Eudora.
Family: Wife, Kim, adult daughters Teresa and Nicole and two grandsons, one from each daughter.
Education: Graduated from Eudora High School in 1972 and went to Kaw Valley Area Vocational School in Topeka.
Ideal job when growing up: Farming. "It worked out pretty well for me, but I was farming in the late 1970s and early '80s when they were charging farmers 18-percent interest and crop prices were bad."
Hobbies: Spending time with his grandsons. On summer weekends, he likes to mow for a farmer friend in a tractor with an air conditioned cab.
On the difference between his hometown of Eudora and Baldwin City: "Baldwin is more of a community. Eudora is such a bedroom community. With the Lumberyard Arts Center, the (Midland Railway) train and Maple Leaf, there's just so much more going on in Baldwin.
Digging deeper: Neis said he was introduced to law enforcement when his wife got a job in 1976 for the Douglas County Sheriff's Office at the county's new law enforcement center and jail. He started riding with deputies on some of the nights his wife worked as a reserve officer. He was then hired part-time by the Eudora Police Department, starting just after the department's two officers were temporarily suspended after a shooting. He remembers Eudora Police Chief Bill Long tossing him the keys his first night on the job with the parting words of "call me if anything comes up." He left that part-time job to work security from 1985 to 1990 at the Sunflower Army Ammunition Plant. He next worked five years as a special deputy with the Douglas County Sheriff's Office, serving warrants and processes. He then rejoined the Eudora Police Department full time before starting with the Baldwin City Police Department in 2009. He was named chief in 2010.