Baldwin City teachers looking for donations, volunteers for summer special needs bike camp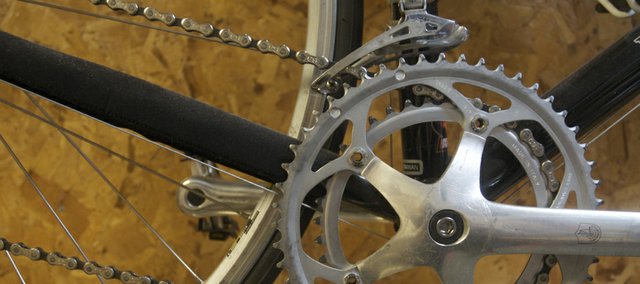 Once they witnessed the results at an iCan Bike camp last summer in Topeka, Barbara Schwering and Betsey Ulrich were determined to bring it to Baldwin City.
How to help
Donations for iCan Bike Camp can be made at Baldwin State Bank care of Baldwin iCan Bike Camp or by visiting the iCan Shine website at icanshine.org.
To volunteer, contact Barbara Schwering at bschwering@usd348.com or Betsy Ulrich at bulrich@usd348.com.
The iCan Bike system teaches individuals with disabilities how to ride bicycles during five-day camps. Students start on bikes equipped with special cantilever rear roller systems, step up to tandem bikes and graduate to their own bicycles.
"Most campers are riding after three days," said Schwering, Baldwin USD 348 occupational therapist. "I tell parents that it's all about the bike. Eighty percent are riding at the end of the week.
"It's really fun to watch them just light up saying, 'Look, I'm riding and didn't fall off.'"
Popping Joe's Kettle Korn will be selling kettle corn April 5 and 6 in the Lawrence Walmart parking lot as a fundraiser for the iCan Bike Camp June 9 through 13 at Baldwin High School.
"Or if they did fall off, just get right back on the bike," said Ulrich, special education teacher at Baldwin Elementary School Primary Center. "It's one of those things you have to experience to understand how unique it is."
The iCan Bike camps are part of the larger iCan Shine Inc.'s programs for those with disabilities. The organization brings the special bicycles and mechanics to fit them and the campers' personal bicycles they will start riding as their skills improve, Ulrich said.
It will cost $10,000 to have the camp from June 9 through 13 at Baldwin High School, where the campers will learn to ride in the school's gym and parking lot. Schwering and Ulrich have raised $7,500 and were spending the Friday of their weeklong spring break visiting Baldwin City businesses in an effort to raise more.
The fundraising got its first boost when Schwering and Ulrich received a Baldwin Education Foundation Innovative Project Grant for $750 in September.
"The Lions Club also stepped up," Schwering said. "That really motivated us to actually go through with it."
In addition to donations, the two women are also looking for about 80 additional volunteers to help during the camp. Ulrich said volunteers sign up to work an hour a day with the same campers throughout the week.
Fundraising and volunteer recruiting presented challenges, but Schwering and Ulrich anticipated no problem filling the 40 slots available at the camp, especially since there won't be a camp in the Kansas City metropolitan area this summer.
"When we were thinking of this, we came up with 30 kids (in Baldwin City) who don't know how to ride bikes," Ulrich said. "We've written special education teachers in Lawrence, Ottawa and other neighboring districts."
The camp is not limited to children, and at least one adult is planning to attend the camp, Schwering said.
"We've had one request for Florida," she said. "She has family in Kansas City and is coming up here during camp. Her 40th birthday is the week of the camp. It would be special if she can do it.
"She said she always wanted to ride a bike. It's one of life's little pleasures. It's also a lifelong fitness activity. Some people end up having to ride a bike to work, so there's several reasons to learn to ride a bike."