Baker freshman duplicates Baldwin High School wrestling success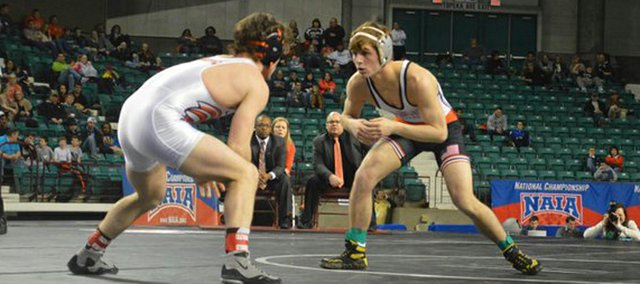 At each level of competition throughout his wrestling career, Bryce Shoemaker hasn't needed long to rise to the top.
Shoemaker, a Baker University freshman, proved that once again by winning the 133-pound weight class at the NAIA Championships on March 8 at the Kansas Expocentre in Topeka. The victory made him the first national champion in the Baker wrestling program's five-year history and improved his record to 34-7 in his first collegiate campaign.
"I still can't put words to it," Shoemaker said. "All the hard work has just added up."
The road to the top of the podium included a 13-8 decision over No. 1 seed Michael Ruiz of Great Falls and a 3-0 decision over Indiana Tech's Justin Brooks in the championship match.
Baker head coach Pete Di Pol credited much of Shoemaker's success during this past season to his ability to make adjustments from match to match.
"He struggled a little bit making the transition from high school wrestling to college wrestling," Di Pol said in a conference call from New Jersey, "but his ability to adapt and close the gap quickly, it shows how much he's improved. Not only in the wrestling room but each and every match he got better because he just kept adapting to different styles. He's just very coachable."
Di Pol also said that Shoemaker's composure and confidence separated him from other freshman wrestlers across the country.
"(Bryce) had a little bit of ... not cockiness, but he had a way about him of saying, 'Hey, yeah, I'm a freshman, but don't mess with me.' I like that," Di Pol said.
However, Shoemaker was quick to chime in and clarify things after Di Pol's description of him.
"I don't have that swagger at all," Shoemaker said with a laugh. "Don't even say that. I just go out there."
Baldwin City roots
"Just going out there" has seemed to work well for Shoemaker ever since he started wrestling for the Baldwin Youth Kids Club at age 7 in the 8-and-under/55-pound weight class.
Shoemaker's NAIA championship match made Baldwin High School wrestling coach Kit Harris experience déjà vu.
"I was standing in the corner at the Expocentre where Bryce was about ready to get his award and his mom was there," Harris said. "I said, 'Melinda, I remember standing right here in this corner, on that rail right there about 10 feet from where I'm standing, and watching Bryce as an 8-year-old kid, winning his first Kids State championship.'"
Shoemaker — or "Shoey" as Harris remembered Bryce's father, Dennis, yelling — won the Kansas Kids State title match, 2-0.
"It was a great finals match," Harris said. "It was kind of like his college national championship match, where he got a lead in the same position and had to get a lot of riding time. I remember Bryce was a little, skinny, shaved-head kid and just thinking, 'He is a competitive little dude.' It has been cool just to watch him over the years."
Harris went on to coach Shoemaker at Baldwin junior and senior high schools. Shoemaker became the only two-time state wrestling champion in Baldwin High history.
Shoemaker started off his Bulldogs career with a bang, winning a state title in his freshman year. He posted a record of 160-18 in four years at BHS. That number could have been more impressive if not for a freak injury in his sophomore season, a week before regionals.
"I pretty much ripped my pinky toe off," Shoemaker said. "I was running around the mat barefoot, and (the toe) got caught on the mat. It pretty much just ripped off."
Following his recovery from the gruesome injury, Shoemaker bounced back as the state runner-up his junior year but wasn't satisfied heading into his senior season.
"It kind of added a little pressure," Shoemaker said. "I mean, I definitely didn't want to go out just winning state my freshman year."
Staying close to home
As he worked toward his second state title as a BHS senior, Shoemaker was deciding where to compete in college. For years, he had his eyes on the Baker wrestling program, which was in its first season under then-head coach Jimmy May when Shoemaker was a freshman at Baldwin High.
"In high school, I was just trying to get more workouts with (the Wildcats,)" Shoemaker said. "(May) has always kind of just been behind me and supported me all throughout high school."
With May at the helm, Baker quickly rose to prominence at the NAIA level, and 70 wrestlers qualified for the national tournament over a four-year span. That success was enough to convince Shoemaker to sign with the Wildcats. But when May announced that he would be stepping down after the 2012-13 season, Shoemaker had second thoughts.
"(May) was the main reason why I signed, but then again, he's still on campus (as the admissions athletic liaison,)" Shoemaker said. "He's still around. He was at nationals helping all of us. I don't think he's ever going to completely get out of wrestling."
Bulldog paved the way
One of May's first recruits at Baker was Baldwin High wrestler Alan Callahan. The 125-pounder was a four-time NAIA tournament qualifier and will be staying on next season as an assistant coach for the Wildcats.
Callahan and Shoemaker were separated by a weight class, but they still occasionally practiced against each other.
"He definitely whooped up on me," Callahan said, "but it was fun having him just a weight class away."
Callahan, Di Pol and Baker assistant coach Levi Calhoun all raved about Shoemaker's work ethic, and hope the national title is a sign of things to come, not only for the freshman but the BU wrestling program as a whole.
"Bryce has set a new bar," Calhoun said. "That's something that we needed to happen. He's won that first title. Now, you're not expected to be an All-American; you're expected to be a national champion."