Baker women advance in
NAIA

national tournament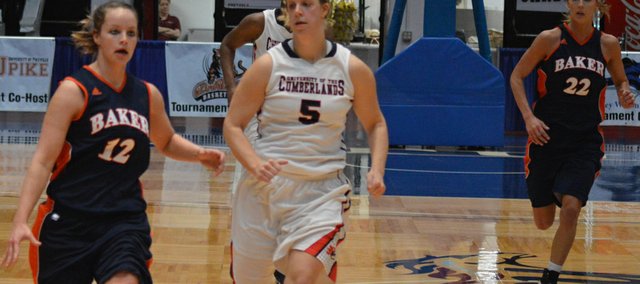 FRANKFORT, Ky. – The No. 12 ranked Baker University Wildcats entered the 2014 NAIA Division I Women's Basketball National Championship as one of five teams making theor first-ever appearances, but the Wildcats proved they belonged and opened up the tournament with a 74-61 win against the No. 23 Cumberlands, who was making its 14th appearance.
The Wildcats won the 8:30 a.m. EST tipoff inside the Frankfort Convention Center and improved to 27-6 on the year, ending the University of Cumberlands season with a record of 19-11.
The Wildcats will now face the winner of No. 7 The Master's of California and Bethel of Tennessee at 8 a.m. Friday.
Senior guard BriAnna Garza paced the Wildcats with a game-high 24 points and was one of three Baker starters in double-figures.
Junior guard Kyrstie Ehm and senior guard Shea Shoemaker chipped in 17 and 12 points, respectively.
Overall, the Wildcats shot 44.8 percent from the field (26-of-58) and were also hot from 3-point range, making 6-of-19 threes (31.6 percent).
Rebounding, where Baker held a 49-31 advantage, and free throw shooting, where Baker shot 84.21 percent, proved to be two key factors in the Wildcats first-ever national championship victory.
Three of Cumberlands starters scored in double-figures, led by senior guard Jill Herman's 15 points. Junior center Brooke Forsythe was next with 14 points, followed by senior guard Lynnae Lampkins with 10 points.