Friends of the Library to give Baldwin City Public Library expansion a boost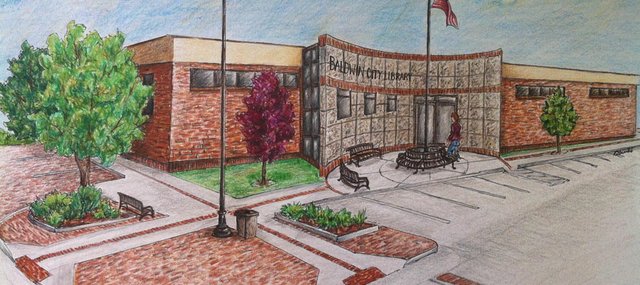 Years of plant sales and membership drives by the Friends of the Baldwin City Library have yielded funds for a donation toward the library expansion underway at Seventh and High streets. At the Friends' Annual Meeting on March 18, a check for $25,000 will be presented to a representative of the Library Board of Trustees, specifically to be used for the new reading area.
The expansion project adds approximately 50 percent more space to the 25-year-old building. The upgraded entry plaza leads into a new Kansas/Local History Room and an extended multi-purpose room with new audio-visual technology. The children's and young adult areas are to be enlarged, and there is room for additional shelves in the adult section as well.
Upgrades intended to improve the operation of the library include an extended circulation desk, built-in book drop, new kitchen, and a new family bath/changing room. A new roof has been completed and a new heating/air conditioning system is being installed. he staff is looking forward to a renovated work room and much needed storage areas for library supplies and files.
Library patrons and staff have been very tolerant of the construction dust and noise since November. With completion projected for the end of May, the temporary plywood partitions between old and new areas will soon be removed to reveal the bigger and better Baldwin Library we have been anticipating.